A&D Transactions
Serving the asset marketplace with deals, analysis and business opportunities.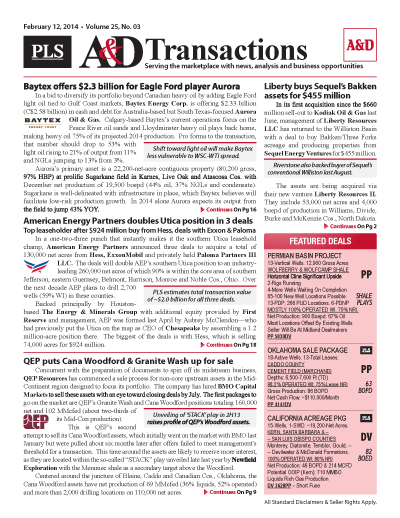 PLS publishes news and analysis on the acquisitions and divestitures (A&D) sector through its A&D module. The red banner report, published every 3 weeks, covers the active US asset marketplace and includes analysis of corporate mergers, property divestitures, completed transactions and deal metrics.
PLS' most popular report
Single copy pricing; Incl hard copy & email version
Guaranteed to increase deal flow & market insight
Every 2-3 weeks; 17+ issues per year
Latest in asset acquisitions, corporate M&A activity, deals in play & industry buying trends
Access to archives editions of A&D
Phone request to multiple listing
$ 795 /Yr
Search PLS' News Archive for complete oil & gas news for A&D Transactions .
See what it is about before you buy. View a sample issue of A&D Transactions.
Need more information? Click the button to recieve more details about the A&D Transactions
Opportunity is a reflection of information.
Call 713-650-1212 For More Information
Search A&D Transactions:

Headline
Publication
News Date
Denver-based Resolute Energy signed deal
Denver-based Resolute Energy signed a $15 million deal to sell its legacy oil fields on the Permian Basin's Northwest Shelf. The company hired an advisor in 3Q16 to market these assets in Lea County,...
Feb 08, 2017
Texas South Energy acquired assets
Adding onshore potential to its nonop Gulf of Mexico position, Texas South Energy acquired the assets of private Gulf Coast explorer Sydson Energy in a deal valued at $2.5 million. The acquisition...
Feb 08, 2017
1st NRG Corp signed an LOI
Wyoming coalbed methane producer 1st NRG Corp. signed an LOI to buy more than 600 shut-in coalbed methane wells. Before being shut in, these wells were producing more than 2.5 MMcf/d. The acquisition...
Feb 08, 2017
Samson Energy's Permian investment pays off
Halcón Resources' $705 million Permian entry marks a basin exit for Samson Energy, the private held company launched by the Schusterman family in 2011. Samson Energy was built from leftover Gulf...
Feb 08, 2017
Get more news for A&D Transactions