A&D Transactions
Serving the asset marketplace with deals, analysis and business opportunities.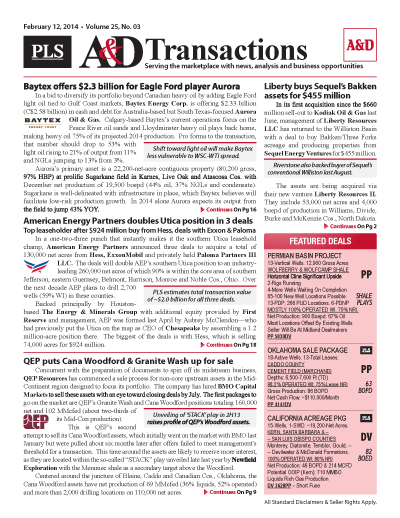 PLS publishes news and analysis on the acquisitions and divestitures (A&D) sector through its A&D module. The red banner report, published every 3 weeks, covers the active US asset marketplace and includes analysis of corporate mergers, property divestitures, completed transactions and deal metrics.
PLS' most popular report
Single copy pricing; Incl hard copy & email version
Guaranteed to increase deal flow & market insight
Every 2-3 weeks; 17+ issues per year
Latest in asset acquisitions, corporate M&A activity, deals in play & industry buying trends
Access to archives editions of A&D
Phone request to multiple listing
$ 795 /Yr
Search PLS' News Archive for complete oil & gas news for A&D Transactions .
See what it is about before you buy. View a sample issue of A&D Transactions.
Need more information? Click the button to recieve more details about the A&D Transactions
Opportunity is a reflection of information.
Call 713-650-1212 For More Information
Search A&D Transactions:

Headline
Publication
News Date
Chesapeake expands northwest STACK position
In a March 28 presentation, Chesapeake revealed a 19,300-net-acre bolt-on acquisition for $26 million and a 6,700-net-acre farm-in deal in Major County, Oklahoma, adding to the northwest STACK...
Apr 13, 2017
Venado buys Exco's Eagle Ford position for $300MM
Exco Resources agreed to sell its entire Eagle Ford position in South Texas to privately held Venado Oil & Gas for $300 million, which it will use to fund drilling of its core Haynesville/Bossier...
Apr 13, 2017
Q2 looks to be expanding beyond the Permian
After an unusually active first quarter dominated by the Permian, M&A activity in the first portion of the second quarter is expanding with the Canadian upstream seeing one trade of unusual size:...
Apr 13, 2017
People & Companies - April 13, 2017
Permian-focused Centennial Resource Development hired Brent Jensen as VP and chief accounting officer to replace Jamie Wheat, who resigned effective March 24 but will remain with the company as...
Apr 13, 2017
Get more news for A&D Transactions