MidContinent Scout
Serving the local market with drilling activities, permits & multiple listings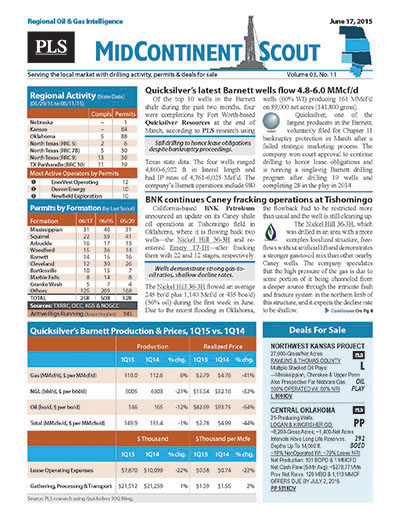 PLS's MidContinent Scout covers regional drilling, discoveries and developments in Oklahoma, Texas Panhandle, (RRC 10), North Texas (RRC 7B & 9), Kansas and Nebraska. The report also covers permit stats, completions and P&A activity, as well as describing business opportunities listed for sale in the Woodford, Mississippi Lime, Barnett, Granite Wash, Eastern Niobrara and the region's historically productive conventional plays
Stay in front of local prospects, plays & rigs!
Oklahoma, Kansas, Nebraska, TX Panhandle, North Texas
Hard Copy and Email For 1 Individual
Every 2 Weeks (22-25 issues per year)
Regional discoveries, drilling activity, permits, completions and summary drilling statistics, layered with regional listings and business opportunities
Web access to the MidContinent Scout archive
Does not include access to MLS
$ 795 /Yr
Search PLS' News Archive for complete oil & gas news for MidContinent Scout .
See what it is about before you buy. View a sample issue of MidContinent Scout.
Need more information? Click the button to recieve more details about the MidContinent Scout
Opportunity is a reflection of information.
Call 713-650-1212 For More Information
Search MidContinent Scout:

Headline
Publication
News Date
Alta Mesa eyes eight rigs in STACK this year
Alta Mesa Holdings plans to ramp up to eight rigs by year's end from the current six, drilling and completing up to 150 STACK wells. The company aims to delineate the Osage, Meramec and Oswego...
Apr 19, 2017
Linn Energy plans 25-well Merge program
Linn Energy, which recently emerged from financial restructuring with a fresh focus on Oklahoma's STACK/SCOOP, has brought seven operated wells on production since November. The best of these was the...
Apr 06, 2017
Newfield's STACK well sets oil rate records
An industry-leading well drilled by Newfield in Kingfisher County, Oklahoma, has set oil rate records, according to public data. The Burgess 1H-18 recorded a 24-hour flow rate of 2,931 boe/d (69%...
Apr 06, 2017
Newfield exits HBP phase in STACK/SCOOP
Newfield Exploration is entering development mode in Oklahoma with plans to drill 85-90 STACK wells and up to 50 SCOOP wells. The company intends to maintain 10 rigs over the next three years in the...
Mar 22, 2017
SandRidge focused on northwestern STACK in 2017
SandRidge Energy plans to add a second drilling rig in late Q1 in Oklahoma, where it is focused on a multilateral program in the Meramec and Osage after adding 13,100 acres in Woodward County to a...
Mar 22, 2017
MidContinent Quick News - March 22, 2017
• The Midcontinent region has 128 rigs—119 oil and nine gas— running this issue, up from 87 YOY. • Usual suspect Blaine County, Oklahoma, is the top county with 25 rigs, up from 12 YOY....
Mar 22, 2017
Get more news for MidContinent Scout