OilfieldServices
Serving the oilfield service sector with news, analysis and business opportunities.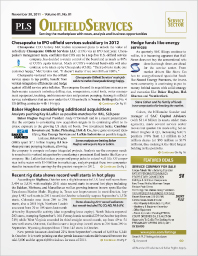 Click Here
Other U.S.A. Reports
A&D Transactions
CapitalMarkets
ProspectCentre
MidstreamNews
QuickPrice
Southeastern Oil Scout
View All U.S.A. Publications
PLS publishes news and analysis on the oilfield service sector through its OFS module. The gold banner report, published every 3 to 4 weeks, covers the active sector with news and analysis on drilling, completions, field operations and technology. The report also covers mergers, acquisitions and capital market transactions in the sector and includes business opportunities listed for sale including companies, rigs, equipment and other relevant deals.

Like PLS' other industry reports, the OilfieldServices report is supplemented by timely Alerts and our docFinder research and global M&A database.

PLS' OFS module is a timely and inexpensive source for keeping up with the active oil and gas service sector and is a must-read for service providers, oil and gas operators, capital providers, advisors and other energy executives. This bundle is available through hard-copy and email distribution and is the perfect complement for PLS' other research (A&D Transactions, ProspectCentre, CapitalMarkets, MidstreamNews, QuickPrice); tools (docFinder) and databases (M&A) in the U.S., Canada and International.
Opportunity is a reflection of information.
Call 713-650-1212 For More Information