PetroScout
Serving the E&P market with news, analysis and business opportunities.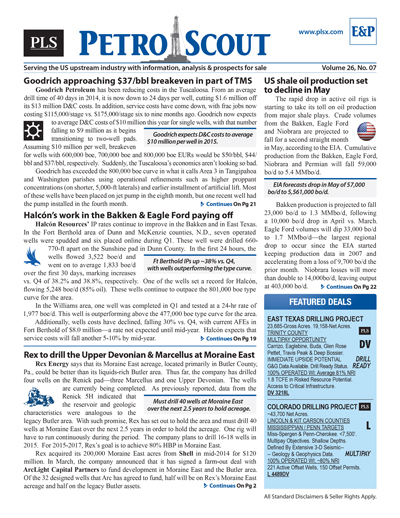 PLS publishes news and analysis on the exploration and production (E&P) sector through its E&P module. The blue banner report covers new well discoveries, drilling activities, acreage sales, industry statistics (drilling results, activity permits and intents to drill) and technological updates.
Covering exploration & production
Single copy pricing; Incl hard copy & email version
Increase market insight & deal flow
Every 3 weeks; 17+ issues per year
Latest in exploration, discoveries, resource plans, land grabs, volumes, development projects & trends
Access to archives covering E&P
Phone request for prospects and lands listed for sale
Includes discounts for other PLS products & events
$ 645 /Yr
Search PLS' News Archive for complete oil & gas news for PetroScout .
See what it is about before you buy. View a sample issue of PetroScout.
Need more information? Click the button to recieve more details about the PetroScout
Opportunity is a reflection of information.
Call 713-650-1212 For More Information
Search PetroScout:

Headline
Publication
News Date
PDC Energy raises EURs in Wattenberg field
PDC Energy unveiled increased type curves for extended-reach and mid-reach wells in Wattenberg as a result of new completion design. The company raised its type curve for XRL wells, which it just...
Apr 26, 2017
Alta Mesa eyes eight rigs?in STACK this year
Alta Mesa Holdings will drill and complete up to 150 wells this year, ramping up from six to eight rigs by year's end. The company increased its capex 28% this year to $290 million with 95% of that...
Apr 26, 2017
Chisholm Oil & Gas starts up in STACK play
Tulsa-based Chisholm Oil & Gas is a new Oklahoma-focused E&P company that has picked up an initial 53,000 acres in the multi-zone STACK play in and around Kingfisher County. Backed by a $900...
Apr 26, 2017
Gulfport's first completions in SCOOP coming soon
Gulfport has begun its first operated completions in the SCOOP following the closing of its Vitruvian buy. The company is using an enhanced frac design compared with historical completions, and...
Apr 26, 2017
Carrizo drilling six Wolfcamp A wells this year
While Carrizo is operationally focused on the Eagle Ford this year, the company does plan to drill and frac six wells in Reeves and Culberson counties of the southern Delaware Basin, spending $30...
Apr 26, 2017
Get more news for PetroScout