PetroScout
Serving the E&P market with news, analysis and business opportunities.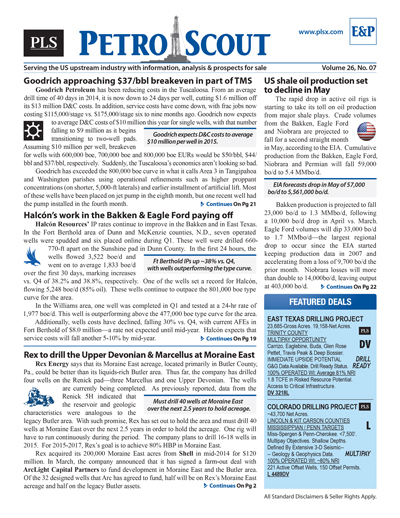 PLS publishes news and analysis on the exploration and production (E&P) sector through its E&P module. The blue banner report covers new well discoveries, drilling activities, acreage sales, industry statistics (drilling results, activity permits and intents to drill) and technological updates.
Covering exploration & production
Single copy pricing; Incl hard copy & email version
Increase market insight & deal flow
Every 3 weeks; 17+ issues per year
Latest in exploration, discoveries, resource plans, land grabs, volumes, development projects & trends
Access to archives covering E&P
Phone request for prospects and lands listed for sale
Includes discounts for other PLS products & events
$ 645 /Yr
Search PLS' News Archive for complete oil & gas news for PetroScout .
See what it is about before you buy. View a sample issue of PetroScout.
Need more information? Click the button to recieve more details about the PetroScout
Opportunity is a reflection of information.
Call 713-650-1212 For More Information
Search PetroScout:

Headline
Publication
News Date
Marathon Oil adds Delaware Basin to portfolio
Marathon Oil released a $2.2 billion capital budget last month that was laser-focused on its low-cost, high-return US resource plays with 91% dedicated to the STACK/SCOOP, Bakken and Eagle Ford. The...
Mar 16, 2017
Repsol, Armstrong find 1.2 Bboe in Alaska
Spanish giant Repsol and its privately held US partner, Armstrong Energy, have made what they're calling the largest US onshore conventional discovery in 30 years west of Prudhoe Bay. The partners...
Mar 15, 2017
Jones accelerates plans for new STACK
Jones Energy will devote nearly half of its $275 million capital budget to drilling its newly acquired STACK/SCOOP acreage, confirming analyst expectations that the company would immediately begin...
Mar 15, 2017
Newfield exits HBP phase in STACK/SCOOP
Newfield has shifted into development mode in the STACK/SCOOP, setting a $1.0 billion capital budget that is 85% dedicated to the Oklahoma plays. The company plans to drill 85-90 STACK wells and up...
Mar 15, 2017
Permian to fuel Apache's growth outlook
Led by its Permian Basin operations, Apache will pivot back to growth in 2017, increasing its capital budget more than 60% over 2016 spend to $3.1 billion. About $2.0 billion will be directed toward...
Mar 15, 2017
Get more news for PetroScout