PetroScout
Serving the E&P market with news, analysis and business opportunities.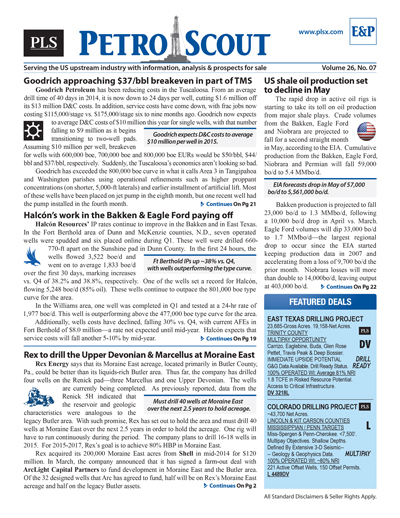 PLS publishes news and analysis on the exploration and production (E&P) sector through its E&P module. The blue banner report covers new well discoveries, drilling activities, acreage sales, industry statistics (drilling results, activity permits and intents to drill) and technological updates.
Covering exploration & production
Single copy pricing; Incl hard copy & email version
Increase market insight & deal flow
Every 3 weeks; 17+ issues per year
Latest in exploration, discoveries, resource plans, land grabs, volumes, development projects & trends
Access to archives covering E&P
Phone request for prospects and lands listed for sale
Includes discounts for other PLS products & events
$ 645 /Yr
Search PLS' News Archive for complete oil & gas news for PetroScout .
See what it is about before you buy. View a sample issue of PetroScout.
Need more information? Click the button to recieve more details about the PetroScout
Opportunity is a reflection of information.
Call 713-650-1212 For More Information
Search PetroScout:

Headline
Publication
News Date
Conoco discovers 300 MMbo in Alaska field
ConocoPhillips has been active in Alpine field on Alaska's North Slope—announcing the Willow discovery at its Greater Mooses Tooth unit, sanctioning additional drilling and moving forward on the...
Feb 21, 2017
BHP ramps up in Haynesville
BHP Billiton added a second rig in the Haynesville and anticipates it will begin drilling in March. The mining giant returned to the play in October with one rig after ceasing operations in 2015 on...
Feb 21, 2017
PetroQuest Energy more than doubles capex
PetroQuest raised its capex to $40-48 million from 2016 guidance of $15-20 million. The budget will fund the drilling of eight to 10 Cotton Valley wells in East Texas, recompletions at Thunder...
Feb 21, 2017
Hess allocates $1.35B to Williston, GOM in 2017
Hess will spend nearly a third of its $2.25 billion 2017 capital and exploratory budget in the Bakken as it ramps up from two to six rigs and brings 75 new wells online by YE17. Non-operated well...
Feb 21, 2017
Get more news for PetroScout