South Texas Scout
Serving the local market with drilling activities, permits & multiple listings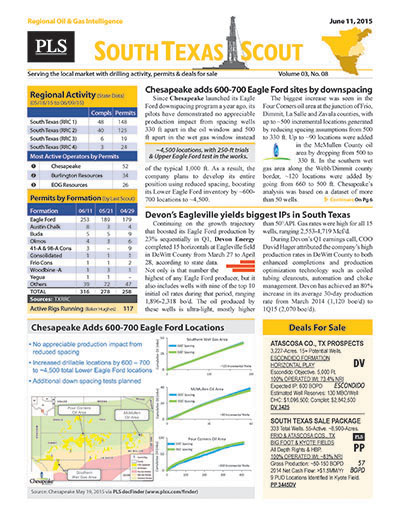 PLS publishes drilling activity in Railroad Districts 1,2,4 and select counties north of 3 through the South Texas Scout. Published every three (3) weeks, this local report covers lead stories on drilling activity, successes and new projects while also reporting on new permits, completions and P&A activity.
Stay in front of local prospects, plays & rigs!
South Texas RRC 1, 2, 4 and north of 3
Hard Copy and Email For 1 Individual
Every 3 Weeks (16-20 issues per year)
Regional discoveries, drilling activity, permits,
completions and summary drilling statistics, layered
with regional listings and business opportunities
Web access to the South Texas Scout archive
Does not include access to MLS
$ 795 /Yr
Search PLS' News Archive for complete oil & gas news for South Texas Scout .
See what it is about before you buy. View a sample issue of South Texas Scout.
Need more information? Click the button to recieve more details about the South Texas Scout
Opportunity is a reflection of information.
Call 713-650-1212 For More Information
Search South Texas Scout:

Headline
Publication
News Date
South Texas - Quick News - February 24, 2017
• The South Texas region has 79 rigs—67 oil and 12 gas—running this issue, up from 62 YOY. • Karnes County is the top county with 15 oil rigs running, up one YOY. • Dimmit County has...
South Texas Scout-DF

Feb 24, 2017
Chesapeake lengthens laterals to drive oil growth
Chesapeake's Eagle Ford, which CEO Doug Lawler called the company's hallmark asset, will be a key driver of oil growth in 2017. This will be underpinned by a shift to longer laterals. With 30% of its...
Feb 24, 2017
Devon accelerates completions in DeWitt County
Devon continues to bring strong wells online in DeWitt County since resuming completions in Q3. The company's best well this issue is the Rayes B-Geffert A SA #1H, which flowed 2,733 boe/d (80%) on a...
Feb 24, 2017
South Texas Quick News - February 2, 2017
• The South Texas region has 70 rigs, 59 oil and 11 gas, running in this issue, down from 78 YOY. • Dimmit County has 10 rigs running, double the five it had last year. • Atascosa...
Feb 02, 2017
Sanchez to apply factory approach to new acreage
Sanchez Energy has solidified its South Texas position, taking it to 335,000 net operated acres for the third-largest Eagle Ford position, and the company is energized to apply its factory approach...
Feb 02, 2017
South Texas Quick News - January 13, 2017
• The South Texas region has 63 rigs, 50 oil and 13 gas, running this issue, down from 81 YOY. • There are 13 rigs running in Karnes County, down from 18 YOY. • In Duval County there...
Jan 13, 2017
Devon resumes completion activity in Eagle Ford
Devon Energy is back to completing wells in the Eagle Ford. After a Q2 hiatus, completion activity resumed in Q3 and seven new wells were tied in. The 30-day rates averaged a quarterly record of...
Dec 16, 2016
Get more news for South Texas Scout