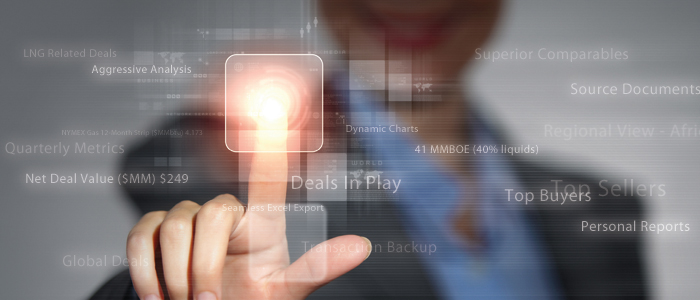 Global Mergers & Acquisitions Database
USA, Canada & International Marketplace
In conjunction with
Derrick Petroleum Services
, a unique international oil & gas research firm.
Sales & Service
Call
Ali Rizvi
to set up a M&A Database trial at 713-600-0115 or email at
ali@plsx.com
Call
Stephanie Epps
for training or Q&A at 713-600-0138 or email at
sepps@plsx.com

Download Brochure
PLS offers the industry's leading Global Mergers & Acquisitions Database (M&A) on market transactions, deal terms and comparable metrics. The Global M&A Database provides current market values and price comparables on oil and gas transactions on a reserve (in the ground) or production basis, (at the wellhead). The system also includes a high-end Global multiple listing database that describes "Deals in Play" and "Deals on the Market". The Global Mergers & Acquisitions Database is an invaluable tool for energy executives and professionals engaged in upstream oil and gas transactions who need to know: "what's for sale"; "what's been sold" and "what they paid on a comparative basis."
Inside the Global M&A Database clients will find deal sheets, advanced metric analysis, source documents, customized tables, unique charting, personal reports and the ability to sign up for unique email alerts. Each Global deal is studied by transaction type, region, hydrocarbon equivalent, proved & probable reserves and acreage. The system, as mentioned above, also includes an innovative "Deals in Play" section that tracks potential acquisitions and new deals on the market including rumors and potential sales. Both "Done Deals" and "Deals in Play" include source documents, other detailed analysts notes and transaction support information.
The Global M&A Database is an invaluable tool for all professionals engaged in oil and gas transactions including M&A team leaders, analysts, financial advisors, capital providers, property brokers or attorneys who value assets and source transaction opportunities.
More Highlights
Comprehensive Deal Coverage
The Global M&A Transactions Database comprises five main data sets including: (a) Announced Deals, (b) Valuation Data, (c) Valuation Metrics, (d) Deals in Play and (e) Source Documents. All of the M&A Transactions Datasets and modules excel in functionality, depth, advanced metrics, usage, timeliness and simplicity.
Functionality & Costs
The Global M&A Database is priced competitively and is generally less expensive than competing products from Herold and Wood Mac, while its functionality, cross datasets and simplicity offer real advantages for users.
Advanced Deal Metrics.
The Global M&A Databases offers a domestic U.S., International and/or Canadian module. Companies desiring Canadian, U.S. and International data subscribe to the Global M&A module. In fact overseas, the larger international dataset has 79 additional parameters, including production and reserves of bought assets, and costs per barrel of proved, probable and possible reserves. Deal metrics are calculated such that transactions across countries with different fiscal regimes are on a comparable net basis.
24:7:365
The Global M&A database is updated daily by professional analysts.
Web-Based and Desktop Access
The Global M&A database can be accessed through various supported web-browsers. In addition the data can be exported for integration with other analysis tools including Excel and Access.
In addition, other PLS product lines and core reports such as A&D Transactions, PetroScout, CapitalMarkets, MidstreamNews Special, MidstreamNews, OilfieldServices and QuickPrice provide significant deal flow and market insight for clients. The unique PLS website also offers quick cross links from M&A and Deals in Play to other PLS premium databases and products including (1)
streaming news
, (2)
archive news
, (3)
multiple listings
, (4)
docFinder
and new products including Corporate Intelligence (CI/X) and Ownership Index (OI/X) coming in 2015.