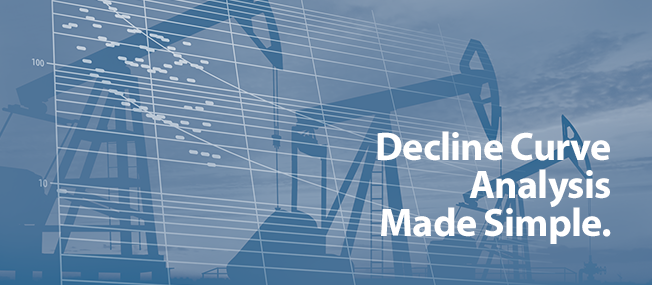 Privacy Policy:
Contents:
Why is it important to have a privacy policy?
Who regulates Drillinginfo?
Who is covered by the Drillinginfo Privacy Policy?
Collecting Data
What information do you collect?
How do you collect it?
What about children and their personal information?
Using Your Data
How do you use my personal information?
What do you do with my cookie information?
Will you be contacting me via email and can I opt out?
How long do you keep my data?
What about customer testimonials?
Data Security
How secure is my data?
Do you protect my data from unauthorized access?
How can I improve data security from my side?
Sharing Data with Third Parties
Do you share my information with third parties?
What about these third parties that you share data with? Are they governed by the same privacy policy as yours?
Do you source data yourself from third parties?
What about information posted on blogs and other social media?
Information Across Borders
Where is Drillinginfo's service hosted?
What if my personal information is transferred to other countries? Do they have their own privacy regulations?
Are there international mechanisms?
Changing the Privacy Policy
Is this privacy policy likely to change?
Issues with the Drillinginfo Privacy Policy
What if I disagree with Drillinginfo's privacy policy?
How do I change or delete the information you have on me?
Can I disable my cookies?
The Drillinginfo Privacy Policy
Why is it important to have a privacy policy?
Drillinginfo takes your privacy seriously. We believe that it's important for you to know how we treat, use, and protect the information you may provide or make available to us. We also believe it is important to be clear and transparent as to what information we collect, what we do with it, and with whom we share it. To this end, this privacy policy describes in detail Drillinginfo-s policies and procedures regarding the collection, use, and processing of your online data.
Who regulates Drillinginfo?
With respect to personal information received or transferred, Drillinginfo is subject to the regulatory enforcement powers of the U.S. Federal Trade Commission. Further details on information collected from outside the United States can be found later in this document
Who is covered by the Drillinginfo Privacy Policy?
The Drillinginfo Privacy Policy, including compliance with the EU-U.S. and Swiss-U.S. Privacy Shield Frameworks, applies to all of Drillinginfo's corporate affiliates, including:
Drilling Info Holdings, Inc.
Drilling Info, Inc.
Drilling Information Limited
DI Ventures, LLC
DI Digital, S. de R.L. de C.V.
Drilling Info LLC
DI Holdings, LLC
DII PTE Ltd
DataGenic Limited
DataGenic, Inc.
DataGenic India Pvt. Ltd.
DataGenic S.L.
GlobalView Software, Inc.
GlobalView Europe Ltd.
GlobalView Asia Pte. Ltd.
GlobalData, LLC
HPDI, LLC
Oil-Law Records Corporation
Pattern Recognition Technologies Inc.
Transform Software and Services, Inc.
1Derrick Ltd
1Derrick, Inc.
Collecting Data
What information do we collect?
Drillinginfo and third parties working on our behalf may collect a variety of personal information, depending on your use of our website. Personal information may include, but is not limited to, name, address, e-mail address, phone number, and other contact information.
In addition, Drillinginfo, third parties working on our behalf, and our partners may collect other information about your use of our website and other websites that does not identify you.
How do we collect it?
Drillinginfo collects information you provide when you express an interest in obtaining additional information about Drillinginfo services, registering for an event or webinar, or downloading any Drillinginfo content.
On our website, Drillinginfo, third parties working on our behalf, and our partners, including social networking sites, may also place, view, and/or use -cookies,- web server logs, web beacons, and other electronic tools to collect statistical information about your use of the Drillinginfo and other websites. We do not and will not share this information with anyone except as may be required by law or as otherwise outlined in this privacy policy.
Can you disable cookies?
You can delete and disable cookies. Most browsers are set to accept cookies by default. If you prefer, you can usually set your browser to disable cookies, or to alert you when cookies are being sent. You must do this for each browser you use and on each device. However, please note if you disable cookies or refuse to accept a request to place a cookie, it is possible that some parts of your website experience will not function properly.
What about children and their personal information?
We do not knowingly gather personal information about visitors who are under the age of 13. The Drillinginfo website and all Drillinginfo products are designed to be used only by those over 16. If you are under 13 years of age, then please do not use or access the service at any time or in any manner.
If we learn that personal information has been collected by us from persons under 13 years of age and without verifiable parental consent, then we will take the appropriate steps to delete this information. If you are a parent or guardian and discover that your child under 13 years of age has obtained an account on the service, then please alert us at support@drillinginfo.com.
Using Your Data
How do we use your personal information?
Drillinginfo may use your information in a number of ways. This might include:
To provide access to our products, services, and customer support, and to assist with the technical functioning of our site.
To enhance your experience with the Drillinginfo website and other parts of the organization through analyzing the usage trends and preferences of our customers.
To communicate with you and provide information about the web site and Drillinginfo services. Generally, you have the ability to opt-out of receiving such promotional communications.
For internal business purposes.
What do we do with your cookie information?
We may use cookies to: (i) personalize our services, such as remembering your information so that you will not have to re-enter it during your visit or the next time you visit; (ii) provide customized advertisements, content, and information; (iii) monitor and analyze the effectiveness of our services, products, and third-party marketing activities; (iv) monitor aggregate site usage metrics such as total number of visitors and pages viewed; and (v) track your entries, submissions, and status in any promotions or other activities.
Will we be contacting you via email and can you opt out?
We may use your email address or other information you provide to contact you for administrative purposes, such as customer service, or to send communications, including updates on promotions and events, relating to products and services offered by us and by third parties we work with. You have the ability to opt-out and we include detailed unsubscribe instructions at the bottom of each email.
How long do we keep your data?
Drillinginfo will retain your information only as needed to provide you services and perform sales and marketing operations. We will retain and use your information only as necessary to comply with our legal obligations, resolve disputes, and enforce our agreements. Additional information regarding requesting a change or deletion of your information can be found below.
If you are no longer a Drillinginfo customer and no longer wish to receive our newsletters and promotional communications, you may opt-out of receiving them by following the instructions included in each newsletter or communication or by emailing us at support@drillinginfo.com.
We sometimes use customer testimonials in our materials and on our web site - do these require permission?
Yes.
Data Security
How do we protect your data?
Drillinginfo takes data security very seriously and we use industry-standard physical, technical, and administrative procedures. These measures include computer safeguards and secured files and buildings.
Our services use industry-standard Transport Layer Security (TLS) encryption. All supplied sensitive and credit card information is transmitted via Secure Socket Layer (SSL) technology and then encrypted into our payment gateway provider's database only to be accessible by those authorized with special access rights to such systems and are required to keep the information confidential.
It's important to stress, however, that no method of transmission over the Internet or method of electronic storage is 100% secure. Therefore, we cannot guarantee absolute security. If you have any questions about our security protocols, please email us at support@drillinginfo.com.
How can you improve your data security from side?
When logging into the Drillinginfo website and specific products, you should take every precaution to protect your own personal information, change your passwords often, use a combination of letters, numbers and symbols, and make sure you use a secure browser.
Sharing Data with Third Parties
Do we share your information with third parties?
We may share certain information, including your personal information, with third parties for the following reasons:
To help service providers assist in operating our business.
To comply with the law or in response to a subpoena, court order, government request, or other legal process.
To produce relevant documents or information in connection with litigation, arbitration, mediation, adjudication, government or internal investigations, or other legal or administrative proceedings.
To protect the interests, rights, safety, or property of Drillinginfo or others.
To enforce any terms of service or other legal disclosures on or related to this website.
In connection with a sale or other transfer of all or some of the assets of Drillinginfo and/or in connection with a sale or merger of Drillinginfo or any division of Drillinginfo.
To provide you with the services or products requested by you, and to perform other activities for business and marketing purposes related to such services and products.
What protections are provided by third parties with whom we share data information?
Generally, we limit the information provided to these service providers to that which is reasonably necessary for them to perform their functions, and we require them to agree to maintain the confidentiality of such information.
We cannot offer guarantees, however, as the collection, use, and disclosure of information by these third parties is governed by their own privacy policies, not this privacy policy, and is not the responsibility of Drillinginfo.
Do we source data from third parties?
Drillinginfo obtains business contact and company information from third party sources, such as business intelligence providers. The information obtained from these third parties is used to support Drillinginfo's marketing, sales, and business efforts.
What about information posted on blogs and other social media?
Our website includes social media links, such as the Facebook, Twitter, and LinkedIn buttons. Please be aware that Drillinginfo is not responsible for the privacy practices of such other sites or third parties. We encourage you to be aware when you leave our site and to read the privacy statements of each and every website that collects personal information.
We also have a dynamic blog which is regularly updated. You should be aware that any information or comments you provide in these areas may be read, collected, and used by others who access them. To request removal of your personal information from our blogs, contact us at support@drillinginfo.com.
Information Across Borders
Where is Drillinginfo's service hosted?
Drillinginfo's service is hosted in the United States and the United Kingdom. If you choose to use the service from Canada, the European Union, or other regions of the world with laws governing data collection and use that may differ from U.S. law, please note that you are likely transferring your personal information outside of those regions to the United States for storage and processing.
What if my personal information is transferred to other countries? Do they have their own privacy policies and regulations?
Some of the uses and disclosures mentioned in this privacy policy may involve the transfer of your personal information to various countries around the world that may have different levels of privacy protection than the United States. By submitting your personal information through the Drillinginfo website, you consent to such transfers and to the processing of your personal information in such countries for the purposes described in this privacy policy.
Are there international mechanisms?
Yes. We comply with the EU-U.S. and Swiss-U.S. Privacy Shield Frameworks, designed by the U.S. Department of Commerce, and the European Commission and Swiss Administration, to provide companies with a mechanism to comply with data protection requirements when transferring personal data from the European Union and Switzerland to the United States in support of transatlantic commerce. We have certified to the Department of Commerce that we adhere to the Privacy Shield Principles of notice, choice, accountability for onward transfer, security, data integrity and purpose limitation, access, recourse, enforcement and liability. If there is any conflict between the terms in this privacy policy and the Privacy Shield Principles, the Privacy Shield Principles shall govern. To learn more about the Privacy Shield program, and to view our certification, please visit https://www.privacyshield.gov/
In compliance with the Privacy Shield Principles, we commit to resolve complaints about our collection or use of your personal information. EU and Swiss individuals with inquiries or complaints regarding our Privacy Shield policy should first contact us at support@drillinginfo.com. We commit to cooperate with EU data protection authorities (DPAs) and the Swiss Federal Data Protection and Information Commissioner (FDPIC) and comply with the advice given by such authorities with regard to human resources and non-human resources data transferred from the EU and Switzerland. In certain circumstances, the Privacy Shield Framework provides the right to invoke binding arbitration to resolve complaints not resolved by other means, as described in Annex I to the Privacy Shield Principles.
Administrative Information About the Privacy Policy
Is this privacy policy likely to change?
Drillinginfo is constantly reviewing its privacy policies in the light of ongoing regulations and user needs and issues. Drillinginfo therefore reserves the right to modify this privacy policy at any time by posting the revised version on the Drillinginfo web site and updating the effective date. We encourage you to check the website frequently to see the current privacy policy in effect and any changes that have been made to it.
What if you disagree with Drillinginfo's privacy policy?
If you disagree with Drillinginfo's privacy policy, please contact us on support@drillinginfo.com. If you do not agree with the terms and conditions of this privacy policy, you must immediately cease using and accessing the website and Drillinginfo products and services.
How to request changes to or deletion of the information we have about you?
To request access, review, rectifation, or deletion of information we have about you, please contact us at support@drillinginfo.com.
Please include the following information in all requests: first name, last name, and e-mail address. While Drillinginfo will make reasonable efforts to fulfil your request, we also reserve the right to impose certain restrictions and requirements on such access requests, if allowed or required by applicable laws.
Terms of Use:
THE FOLLOWING TERMS AND CONDITIONS ("AGREEMENT") APPLY TO THE PRODUCTS (THE "PRODUCTS") YOU ARE USING IN CONNECTION HEREWITH AND THAT ARE BROUGHT TO YOU BY DRILLING INFO, INC. (WHICH OWNS AND OPERATES THE PRODUCTS) ("DI"). BY ACCESSING OR USING ANY PART OF THE PRODUCTS, YOU AND THE ENTITY OR COMPANY THAT YOU REPRESENT, ("CUSTOMER") ARE UNCONDITIONALLY CONSENTING TO BE BOUND BY, AND ARE BECOMING A PARTY TO, THIS AGREEMENT, INCLUDING PROVISIONS RELATED TO WARRANTY DISCLAIMERS, INDEMNIFICATION FOR NEGLIGENCE, AUTOMATIC RENEWAL, LIMITATION OF LIABILITY, AND WAIVER OF JURY TRIAL. IF YOU DO NOT UNCONDITIONALLY AGREE TO ALL OF THE TERMS OF THIS AGREEMENT, YOU WILL NOT HAVE ANY RIGHT TO USE THE PRODUCTS. DI'S ACCEPTANCE IS EXPRESSLY CONDITIONED UPON YOUR ASSENT TO ALL THE TERMS AND CONDITIONS OF THIS AGREEMENT, TO THE EXCLUSION OF ALL OTHER TERMS. IF THESE TERMS ARE CONSIDERED AN OFFER, ACCEPTANCE IS EXPRESSLY LIMITED TO THESE TERMS. Customer: (a) has read and understands the entire Agreement; (b) is authorized and intends to form a legally binding contract with DI; (c) is not a competitor of and will not compete with DI; (d) agrees that the Agreement, whether printed or electronic, constitutes a "writing" under any applicable law; and (e) will cause all Authorized Users to abide by the terms of the Agreement. This Agreement is effective as of the Commencement Date.
Products.During the Term and subject to the terms and conditions of this Agreement, including restrictions and payment of fees:


Access. DI grants Customer a non-exclusive, non-transferable, non-sublicensable right, solely for Customer's Internal Use, for the Permitted Number of Authorized Users to (1) access the Products, (2) download and reproduce discrete elements of Proprietary Data, (3) store Proprietary Data on computer systems controlled by Customer, (4) manipulate, analyze, reformat, print, or display such Proprietary Data, and (5) install the object code version of any Local Software included in the Products. DI has no obligation to deliver or make available any software or other technology used to provide the Products to Customer. Authorized Users shall use the Products solely for the benefit of Customer. If a new version of Local Software is available, Customer shall promptly install the new version and Customer's license to previous versions shall terminate.

Data Providers. Third party data services may be subject to agreements with data providers that Customer must execute prior to receiving service. Customer shall comply with all terms imposed by data providers with respect to Products that include data from third party data providers. Fees for data services are subject to change from time to time by data providers and data providers may terminate service at any time without notice or liability. If service fees increase and Customer requests in writing (or via email) that DI terminate the associated data services, DI will do so unless contractually prohibited. If data services are terminated, DI shall cease to provide, and Customer will no longer be obligated to pay fees for, the terminated data services, without affecting any other services.

Creation of Work Product. Customer may incorporate Proprietary Data into its work product (i) as static graphical images that do not display specific data points and from which it is not possible to extract or manipulate such data and/or (ii) in text containing individual data points ("Customer Work Product"). Customer may provide Customer Work Product to third parties only on a non-continuous basis and (not updated in real-time or in accordance with a regular schedule). Customer shall attribute DI by prominently including "Data provided by and used with permission from Drillinginfo" and, upon request, shall Customer provides DI a copy of Customer Work Product. Customer Work Product shall not extend any warranties on behalf of DI or imply that DI is responsible for reliability, accuracy, completeness or currency of any Proprietary Data or Customer Work Product. Customer Work Product shall not include packages or summaries of Proprietary Data or any Estimated Ultimate Recovery (EUR) tables, Drilled but Uncompleted wells (DUCs), Play Assessments, Basin Grading Maps, or material marked "Confidential" or "Not for distribution." Consulting deliverables that comply with this section shall be considered Customer Work Product.

Restrictions. Customer shall not and shall not permit or authorize any third party to:

Use Products except as authorized or sell, lease, license, sublicense, rent, loan, share, pledge, or otherwise transfer, with or without consideration, all or any part of the Products or rights granted under this Agreement, or permit third parties to benefit from Products, including timesharing, rental, outsourcing, service bureau, networking, hosted service or other arrangement.

Use the Products to compete with DI, build a competitive product or service, provide packages or summaries of Proprietary Data, copy any Product features, functions, or graphics, provide Proprietary Data to third parties by lease, rental, transfer, assignment, broadcast, public display, distribution, sale/resale, sublicense, or any other means, or engage in "mirroring" or simulating the Products.

Reverse engineer, decompile, decrypt, or disassemble Products, except to the extent this restriction is prohibited by applicable law, remove proprietary notices or labels, use any robot, spider, or other automated method to access, download, or reproduce Proprietary Data, or use Products in a way that causes a denial of service for other users or interferes with or unduly burdens performance.

Disclose, use, or permit use of any confidential information of DI, including (i) Proprietary Data, (ii) documentation or technical information related to the Products, and (iii) the terms and conditions of this Agreement (including pricing terms).




DI may suspend or terminate access to the Products if Customer or any Authorized User violates these restrictions.

Payments. Fees are due within 30 days of the applicable invoice. Fees are based on access to the Products, not usage. Payment obligations, including all fees for the entire Term, are non-cancelable and fees paid are non-refundable. Subscription level cannot be reduced during the Term. DI may suspend or terminate access to the Products in its sole discretion if fees are not paid in accordance with this provision. Customer will not setoff or offset against DI's invoices amounts that Customer claims are due Customer. Fees are exclusive of taxes, levies, duties and other fiscal charges, including but not limited to sales tax, use tax, withholding, value-added or similar tax, and property taxes (collectively, "Taxes"). Customer shall not deduct or withhold Taxes. If DI has the legal obligation to pay or collect Taxes, DI will invoice and Customer shall pay such amounts, unless and only to the extent that Customer provides DI with a valid tax exemption certificate authorized by the appropriate taxing authority. Customer shall pay interest on any unpaid balances at least 30 days past due at the rate of one and a half percent (1.5%) per month up to the maximum rate permitted by law plus reasonable expenses incurred by DI in collection efforts.

Term and Termination.

Renewals. UNLESS CUSTOMER PROVIDES DI WRITTEN TERMINATION NOTICE 60 DAYS PRIOR TO THE END OF THE TERM CERTIFYING THAT IT WILL COMPLY WITH SECTION 4(C), DI SHALL HAVE THE RIGHT, BUT NOT THE OBLIGATION, TO RENEW THIS AGREEMENT AND EACH PRODUCT FOR SUBSEQUENT ONE-YEAR PERIODS (EACH A "RENEWAL TERM"). RATES FOR RENEWAL TERMS WILL BE DI'S THEN-CURRENT RATE. Upon request, Customer shall promptly provide DI an accurate count of its then- current number of employees and other information requested to determine pricing
Termination. DI shall have the right to terminate the Agreement immediately without refund if Customer violates any of the terms and conditions of the Agreement. DI shall also have the right to terminate the Agreement immediately without cause at any time upon notice followed by issuance to Customer of a pro rata refund of the subscription fees applicable to the remainder of Customer's subscription. Customer's sole and exclusive right to terminate this Agreement shall be termination without cause upon written notice to DI and payment of all unpaid fees for the full Term without refund or setoff.
Results of Termination. Upon termination or expiration of the Agreement (i) all rights, licenses, and access to the Products terminate, but the Agreement will otherwise survive; (ii) Customer shall immediately destroy all copies (including copies in email) of Proprietary Data in Customer's possession or control; (iii) Customer shall cause each Authorized User to certify that it has completed these procedures and provide such certifications to DI; and (iv) DI may pursue any remedies available at law or in equity. Customer Work Product may be retained subject to continued application of Section 1c. If Customer's Product access changes, this provision shall apply to Products to which Customer no longer has access. If Customer violates this Section 4c, Customer shall pay DI three times Customer's most recent annual subscription fee, as liquidated damages and not as a penalty.

Warranty Disclaimers. DI DISCLAIMS ANY AND ALL WARRANTIES, WHETHER EXPRESS, ORAL, IMPLIED, STATUTORY, OR OTHERWISE, INCLUDING ANY IMPLIED WARRANTY OF FITNESS FOR A PARTICULAR PURPOSE, MERCHANTABILITY, TITLE, OR NON-INFRINGEMENT, AND ANY WARRANTIES ARISING BY VIRTUE OF CUSTOM OF TRADE OR COURSE OF DEALING. DI DOES NOT REPRESENT OR WARRANT THAT THE PRODUCTS WILL MEET REQUIREMENTS OR THAT THEY ARE SUITABLE FOR NEEDS OR THAT THE DATA OR RESULTS ARE CORRECT, ACCURATE, TIMELY, COMPLETE, SUITABLE, OR RELIABLE. PROPRIETARY DATA IS COMPILED FROM SOURCES BEYOND DI'S CONTROL AND ERRORS, GAPS, AND INACCURACIES MAY EXIST. THE PRODUCTS AND PROPRIETARY DATA ARE PROVIDED ON AN "AS IS, WITH ALL FAULTS" BASIS WITHOUT WARRANTIES OF ANY KIND. CUSTOMER ASSUMES ALL RISK OF ERRORS AND OMISSIONS IN THE PRODUCTS AND PROPRIETARY DATA. CUSTOMER SHALL IMPLEMENT SUFFICIENT PROCEDURES AND CHECKS TO SATISFY ITS REQUIREMENTS FOR ACCURACY AND SUITABILITY AND MAINTAIN MEANS FOR THE RECONSTRUCTION OF LOST DATA. THE PRODUCTS ARE A SUPPLEMENT TO, NOT A SUBSTITUTE FOR, THE KNOWLEDGE, EXPERTISE, SKILL, AND JUDGMENT OF PROFESSIONALS. CUSTOMER ACCEPTS ALL RISKS IN ITS USE OF THE PRODUCTS INCLUDING BUT NOT LIMITED TO ANY INVESTMENT, ACQUISITION, DRILLING, WELL TREATMENT, PRODUCTION OR FINANCIAL DECISIONS. NO INFORMATION OBTAINED THROUGH USE OF THE PRODUCTS SHALL CONSTITUTE TRADING ADVICE, TRADING RECOMMENDATIONS, OR TRADING INFORMATION. LOCAL SOFTWARE MAY INCLUDE THIRD PARTY COMMERCIAL SOFTWARE LICENSED BY DI AND SUBLICENSED TO CUSTOMER. LOCAL SOFTWARE MAY ALSO INCLUDE OR BE DISTRIBUTED WITH OPEN SOURCE SOFTWARE. DI MAKES NO REPRESENTATIONS OR WARRANTIES, WHETHER EXPRESS OR IMPLIED (INCLUDING, WITHOUT LIMITATION, ANY WARRANTIES OF MERCHANTABILITY, FITNESS FOR A PARTICULAR PURPOSE, TITLE OR NON-INFRINGEMENT) WITH RESPECT TO THIRD PARTY COMMERCIAL OR OPEN SOURCE SOFTWARE AND SHALL NOT BE LIABLE FOR ANY DAMAGES REGARDING THE USE OR OPERATION OF ANY SUCH SOFTWARE. CUSTOMER RIGHTS TO USE SUCH SOFTWARE, INCLUDING ANY REPRESENTATIONS OR WARRANTIES CONCERNING SUCH SOFTWARE, IF ANY, SHALL BE AS GRANTED UNDER THE APPLICABLE LICENSE AGREEMENT FOR SUCH SOFTWARE. THESE DISCLAIMERS SHALL APPLY REGARDLESS OF ANY FAILURE OF ESSENTIAL PURPOSE OF ANY LIMITED REMEDY. SOME OF THE ABOVE MAY NOT APPLY IN JURISDICTIONS THAT DO NOT ALLOW THE EXCLUSION OF CERTAIN WARRANTIES.
Indemnification.

DI Indemnity. Subject to Section 6c, DI shall indemnify Customer against any action to the extent based on a claim that the unmodified Products infringe a U.S. patent issued as of the date hereof or a U.S. copyright, trademark, or trade secret ("IP Claim"). If adjudged to infringe, DI shall, at its option (i) procure for Customer the right to continue using the Products, (ii) modify or replace the Products so that they do not infringe; or (iii) terminate the Agreement and refund the part of the pre- paid subscription fee for the period after termination. DI shall have no liability for claims based on: (1) use of other than a current, unaltered Products, (2) use of Products in combination with non-DI products, software, services, or data, (3) third party software or data, including open source or third party commercial software, (4) failure to use the Products in accordance with the terms of this Agreement or for its intended purpose, or (5) infringement caused by compliance with Customer's designs, requirements, or specifications. THE FOREGOING STATES THE ENTIRE LIABILITY OF DI AND THE EXCLUSIVE REMEDY OF CUSTOMER WITH RESPECT TO CLAIMS OF INFRINGEMENT OF PROPRIETARY RIGHTS OF ANY KIND.
Customer Indemnity. Subject to Section 6c, Customer shall indemnify DI against any claims, actions, losses, liabilities, injuries, expenses, costs (including all reasonable attorneys' fees and costs of litigation), and damages, resulting from or arising out of Customer's use of the Products or breach of this Agreement, regardless of the form of action (excluding claims that are covered by DI's obligations under Section 6a). CUSTOMER'S OBLIGATIONS SHALL APPLY EVEN IF RESULTING FROM A PERSONAL INJURY OR DUE IN WHOLE OR IN PART TO DI'S NEGLIGENCE OR OTHER FAULT, BREACH OF CONTRACT, STRICT LIABILITY OR VIOLATION OF THE TEXAS DECEPTIVE TRADE AND PRACTICES ACT.
Conditions. The indemnified party shall: (i) promptly notify the indemnifying party in writing of any claim (failure to provide such prompt notice shall only affect the rights of an indemnified party to the extent that such failure has a prejudicial effect on the defenses or other rights available to the indemnifying party); (ii) allow the indemnifying party to have sole control of the defense and all related settlement negotiations (the indemnified party may retain independent counsel at its own expense); and (iii) provide the indemnifying party with the information, authority and assistance necessary to perform the indemnifying party's obligations under this Section.

LIMITATION OF LIABILITY. DI SHALL NOT BE LIABLE UNDER ANY LEGAL THEORY, WHETHER TORT (INCLUDING WITHOUT LIMITATION NEGLIGENCE), CONTRACT, STRICT LIABILITY, STATUTORY, OR OTHERWISE, FOR ANY SPECIAL, INCIDENTAL, CONSEQUENTIAL, EXEMPLARY, PUNITIVE, OR INDIRECT DAMAGES OF ANY KIND, INCLUDING LOSS OF REVENUE, PROFITS, GOODWILL, USE, OR DATA OR THE COST OF PROCUREMENT OF SUBSTITUTE PRODUCTS OR SERVICES, RELATING TO THIS AGREEMENT OR THE USE OR INABILITY TO USE THE PRODUCTS, EVEN IF APPRISED OF THE POSSIBILITY OF SUCH DAMAGES IN ADVANCE. DI SHALL NOT BE LIABLE FOR TOTAL AGGREGATE AMOUNTS (INCLUDING LEGAL EXPENSES) IN EXCESS OF THE FEES PAID BY CUSTOMER TO DI UNDER THIS AGREEMENT IN THE TWELVE (12) MONTHS PRECEDING THE FIRST EVENTS GIVING RISE TO SUCH LIABILITY MINUS ANY AMOUNTS PREVIOUSLY PAID BY DI TO CUSTOMER IN SATISFACTION OF ANY LIABILITY UNDER THIS AGREEMENT. THIS SECTION 7 FAIRLY ALLOCATES THE RISKS BETWEEN THE PARTIES AND IS AN ESSENTIAL ELEMENT OF THE BASIS OF THE BARGAIN BETWEEN THE PARTIES AND SHALL APPLY NOTWITHSTANDING ANY FAILURE OF THE ESSENTIAL PURPOSE OF THIS AGREEMENT OR ANY LIMITED REMEDY HEREUNDER. SOME JURISDICTIONS DO NOT ALLOW LIMITATION OF LIABILITY FOR CERTAIN DAMAGES SO SOME OF THESE LIMITATIONS MAY NOT APPLY.

Ownership / Feedback / Reference. The Products and Proprietary Data and all derivatives thereof (other than Customer Work Product) and all patents, copyrights, trade secret rights, trademarks, trade names and other proprietary rights associated therewith are the valuable, exclusive property of DI protected by contract and intellectual property laws. This Agreement does not transfer or assign any ownership rights to Customer or anyone else. DI reserves the right to alter the Products, implement user priorities, implement rules for use, discontinue certain functional aspects of the Products, or add, withdraw, or alter any Proprietary Data. Except as expressly provided in this Agreement, Customer shall have no rights to the Products or any related intellectual property rights whether by implication, estoppel or otherwise, and DI reserves all rights, title and interest. Customer shall not challenge any right, title or interest of DI in or to, or make any claim or take any action adverse to DI's ownership of, any such property, including the Proprietary Data. Any ideas, feedback, suggestions, corrections, alterations, improvements, additional data points, requests, questions, comments, results of any test or evaluation and the like provided by Customer to DI ("Feedback"), including any enhancement, improvements or new features to same, will be the property of DI. Customer hereby assigns and agrees to assign to DI all right, title and interest worldwide in and to the Feedback and the related intellectual property rights and agrees to assist DI in securing and perfecting such rights. Customer may use Feedback solely for its own Internal Use. DI may use information provided by Customer to DI directly or indirectly, in accordance with DI's Privacy Policy, available at http://info.drillinginfo.com/privacy-policy/, and DI may collect, develop, create, extract, or otherwise generate statistics and other information and otherwise analyze Customer's use of the Products ("Blind Data"). Blind Data will be owned solely by DI and may be used for any lawful business purpose without a duty of accounting to Customer, provided that such Blind Data does not identify Customer as the source of such data. DI may publicly identify Customer as a customer, including on its website, government filings, and in marketing materials, and Customer hereby grants to DI the nonexclusive right to use Customer's name and trademarks (including logos) solely for such purpose.
Unauthorized Use. DI may utilize security keys and other license enforcement mechanisms to prevent operation of the Products outside the bounds authorized hereunder. Customer shall not attempt to defeat or circumvent any such encryption, security, or license enforcement mechanisms. Customer will prevent unauthorized use of the Products and immediately notify DI of any unauthorized use. Customer will require each Authorized User to keep its user ID and password for the Products confidential. If Customer or any Authorized User suspects that any of its passwords have been disclosed or made known to any other person or if any previously Authorized User ceases to be an employee or contractor of Customer, Customer will immediately notify DI at support@drillinginfo.com. DI shall have the right to suspend, cap, limit, or disable file transfers, downloads, and exports as part of Product design, to protect Proprietary Data, or to facilitate operations.
High Risk Activities. Products are not intended for use in hazardous environments requiring fail-safe performance, including any application in which failure could lead to death, personal injury, or severe physical or property damage or any nuclear, chemical, or biological weapons or missile technology ("High Risk Activities"). Customer shall not use Products for High Risk Activities. DI have no liability for damages arising from the use of the Products in any High Risk Activity.
Reporting and Audit. Upon request from DI, Customer shall certify in writing that the Products are being in accordance with this Agreement, including that only the Permitted Number of Authorized Users are using the Products. Customer will maintain complete and accurate books, records, and electronic backups in connection with its use of the Products (or in the case of termination, evidence of steps taken to comply with Section 4c), in sufficient detail to permit DI to verify Customer's compliance with the terms and conditions of this Agreement. DI shall have the right to perform an inspection and audit of Customer's premises, equipment and records during standard business hours and upon ten (10) days prior written notice. Customer will make available to DI or its representatives all Customer systems on which any Local Software or Proprietary Data resides and any records pertaining to the Local Software or Proprietary Data.
Force Majeure. DI shall not be liable for any loss or liability related to acts of God, equipment failures, DoS/DDoS or similar attacks, connection problems, weather, strikes, walkouts, fire, riots, armed conflicts, wild beasts, acts of war, or any causes outside the reasonable control of DI. DI shall have no responsibility to provide access to the Products during such delays or interruption regardless of the cause.
Third Party Content. Products contain content posted by users and links to third party websites or resources ("Third Party Content"). DI is not responsible for the availability of external sites or resources and has no control over, does not endorse, and does not make any representations or warranties with respect to Third Party Content. DI is not responsible or liable for damage related to use of or reliance on any Third Party Content. Customer shall evaluate, and bear all risks associated with, use of any Third Party Content, including any reliance on the accuracy, completeness, or usefulness. Customer's correspondence or business dealings with, or participation in promotions of, providers of Third Party Content, including payment and delivery of related products or services, and any other terms, conditions, warranties or representations associated with such dealings, are solely between Customer and such providers. DI respects intellectual property rights and asks Customer to do the same. DI reserves the right, in its sole discretion, to terminate access for any Authorized User who is the subject of infringement notifications.
Dispute Resolution. The Agreement shall be governed by the laws of the State of Texas. Any claim or cause of action relating to this Agreement must be brought in courts located in Austin, Travis County, Texas, except that DI may seek injunctive or equitable relief in any court. Customer submits to the personal jurisdiction of, and shall not object to venue in, such courts. If Customer does not reside or have a registered agent in the State of Texas, Customer hereby appoints the Secretary of State of Texas to act as its agent for service of process in the event of any litigation or claim arising out of or relating to the Agreement. The UN Convention on Contracts for the International Sale of Goods and the Uniform Computer Information Transactions Act (UCITA) are specifically excluded from application. Breach of DI's intellectual property rights, including confidential or proprietary information and license restrictions, may cause DI irreparable damage for which recovery of money damages would be inadequate, and DI shall therefore be entitled to obtain injunctive relief to protect such rights. Customer hereby waives the requirement of a bond in the event DI seeks injunctive relief. In addition to any other relief, at law or in equity, DI shall be entitled to recover from Customer all attorneys' fees and any costs of any litigation. IN ANY JUDICIAL PROCEEDINGS, THE PARTIES KNOWINGLY AND VOLUNTARILY, AND HAVING HAD AN OPPORTUNITY TO CONSULT WITH COUNSEL, WAIVE ALL RIGHTS TO TRIAL BY JURY, AND AGREE THAT ANY AND ALL MATTERS SHALL BE DECIDED BY A JUDGE WITHOUT A JURY TO THE FULLEST EXTENT PERMISSIBLE UNDER APPLICABLE LAW.
Assignment. Customer shall not transfer or assign, whether by operation of law, merger (including reverse triangular), change of ownership, or otherwise, this Agreement or any of the rights conferred or obligations imposed by this Agreement, without DI's written permission, which may be withheld or conditioned in DI's discretion. No transfer or assignment shall discharge any obligations under this Agreement. Attempted assignment in violation of this provision shall be void and of no effect. Subject to the foregoing, this Agreement shall inure to the benefit of and be binding upon the Parties' and their respective permitted successors, transferees, and assigns. If Customer acquires or is acquired by another DI customer or its affiliate (whether by merger, stock purchase, asset purchase, or otherwise), the acquiring DI customer's subscription fee shall be increased as of the expiration date of the acquired DI customer's subscription by the amount of the acquired DI customer's then-current subscription fee, pro-rated based on the acquiring DI customer's expiration date. DI may freely assign this Agreement, assign its rights, or delegate its duties under this Agreement.
Relationship of the Parties. This Agreement shall not create or establish an agency, partnership, or joint venture between the Parties and the Parties jointly and severally disclaim any such relationship. The Parties are acting solely as independent contractors and neither Party owes any fiduciary, special, implied, or other duty to the other Party. Customer agrees and covenants not to directly or indirectly solicit, hire, recruit, or induce the termination of employment of any employee or contractor of DI during or within one year after the Term.
US Government End Users. Products are deemed to be "commercial computer software" and "commercial computer software documentation," respectively, pursuant to DFAR Section 227.7202 and FAR Section 12.212. Use, modification, reproduction, release, performance, display or disclosure of any part of the Products by the U.S. Government shall be governed solely by the terms of this Agreement and shall be prohibited except to the extent expressly permitted by the terms of this Agreement.
Export Controls. The Products are subject to U.S. Export Administration Regulations. Diversion or use contrary to U.S. or other applicable law and regulation is prohibited. Customer agrees not to export, import, or transmit Products, Proprietary Data or any other software or technical data to any country or end user or for any use in (1) any countries subject to U.S. trade embargoes (and all other nations that may from time to time be included on such a list); or (2) any persons or entities on the U.S. "Denied Persons List," "Specially Designated Nationals List," and "Entities List;" or (3) other locations or persons prohibited by law. Customer represents that neither the U.S. Bureau of Industry and Security nor any other governmental agency has issued sanctions against Customer or denied Customer's export privileges.
Agreement Interpretation. The Agreement constitutes the entire agreement between the Parties and supersedes any prior or contemporaneous agreement, whether written or oral, between the Parties with respect to the Products. The Agreement shall be construed as if both Parties equally participated in its drafting, and thus shall not be construed against either Party as drafter. The Agreement may be modified only in a subsequent written agreement signed by both Parties specifically referencing this Agreement. No waiver of any provision of the Agreement by either Party shall constitute a waiver of any remedy available as a result of a subsequent breach of the same provision unless such waiver is made in writing. If a court determines that any provision of the Agreement is unlawful or unenforceable in any respect, the court shall reform the Agreement by modifying such provision so as to render it enforceable or, if modifying the provision is not possible, then deleting such provision. The court shall then fully enforce the Agreement as reformed. If any of the terms and conditions of the Agreement conflict with any order, text, manual or other document, this Agreement shall prevail and govern, regardless of whether such other document originated prior or subsequent to the Agreement, or was signed or acknowledged by any director, officer, employee, representative or agent of DI. The headings appearing in the Agreement are included for the convenience of the Parties and shall not be used to define, limit, enlarge or interpret the scope of the Agreement or any of its provisions. "Including" means including without limitation.

"Customer" means the purchaser of Products indicated on a DI invoice and all other users of the Products.

"Internal Use" means ordinary use for internal business purposes, not including any activities described in Section 2.

"Local Software" means any software included in the Products to be installed on Customer equipment, such as DI Desktop or Transform Essential, other software used to facilitate Authorized User access to the Products, and application programming interfaces ("APIs"). "Local Software" does not include third party software.

"Party" and collectively "Parties" means DI and Customer.

"Permitted Number" means the number of Authorized Users permitted to use the Products.

"Products" means DI products listed on the DI invoice, Proprietary Data, and anything else DI provides to Customer.

"Proprietary Data" means the data points, databases, elements, records, documents, analyses, models, maps, tables, charts, and other data to which Customer has access using the Products or that is otherwise provided by DI to Customer. Proprietary Data does not include data obtained from third party data providers on a pass-through basis.

"Term" means the period during which Customer has access to the Products.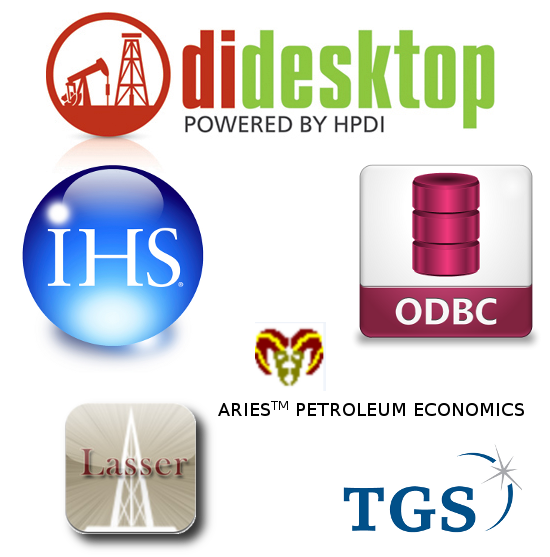 Import or Connect to Your Well Data Seamlessly.
QuickDecline allows for easy production and well data imports for most of today's modern tools. IHS and DIDesktop data can be used to create new projects or update production in old projects. Connect to any database via ODBC including ARIES databases. ODBC connections are live, so each time you look at your well the production is up to date. Don't have a fancy data tool or db? No problem. You can copy/paste your data into QuickDecline.
QuickDecline and L337Tech LLC are not affiliated with Landmark ARIES, DrillingInfo DIDesktop, IHS, TGS or Lasser Data.
U.S. Regional Reports
Stay Ahead of Propects, Play & Rigs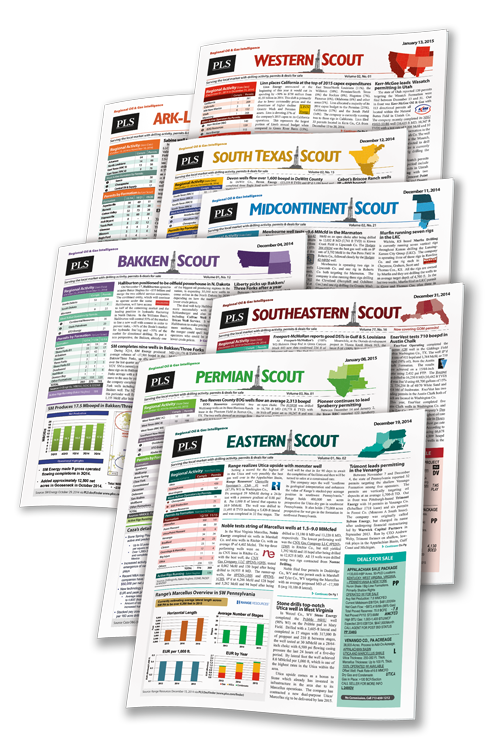 Quick & Easy Evaluations
Take advantage of PLS Scout reports to augment your QuickDecline analysis.
PLS Regional Reports
Quick & Easy Evaluations.
Import or connect to your well data. QuickDecline's ease of use, affordability, quickness and data flexibility makes comprehensive and intelligent evaluations accessible to everyone.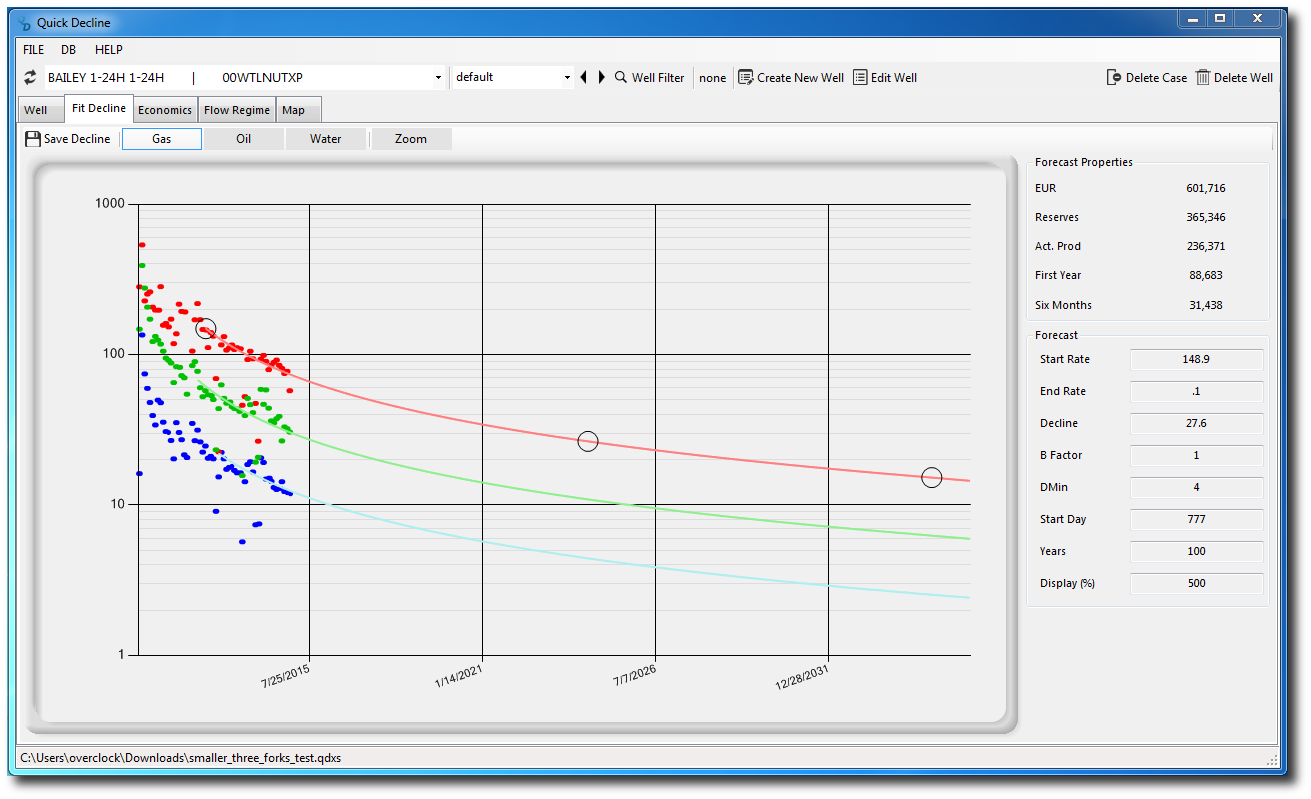 Easy User Interface and Curve Fitting
You do not have to be an engineer to use QuickDecline. The user interface was built for everyone. Fitting production data has never been easier. Simply drag the curves around using your mouse.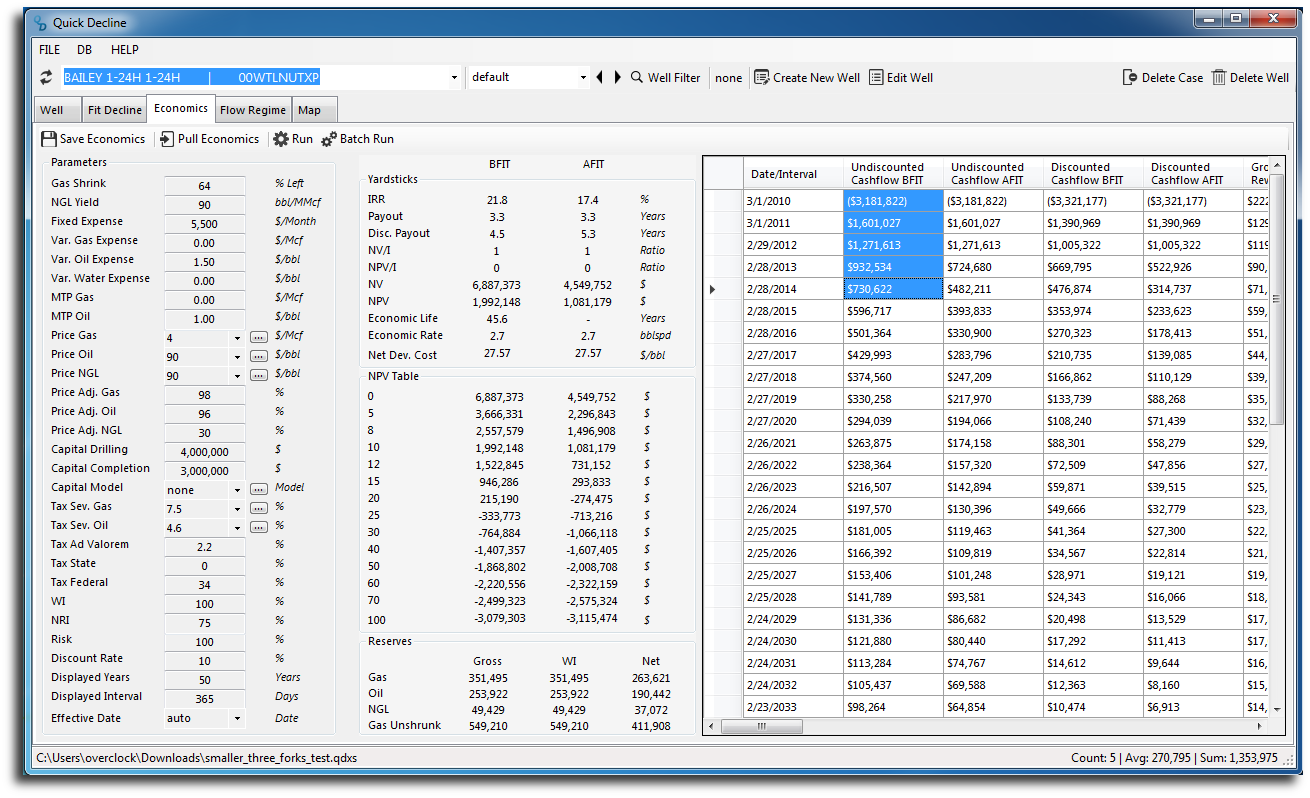 Quick and Easy Economics
QuickDecline comes with a full economics package yet delivers economic results quickly and easily. Stick with the basic economic parameters for quick results or plug in complicated capital, pricing and tax schedules. QuickDecline makes look-back economics simple with its intelligent auto-effcetive date setting. Display results in any interval such as daily, monthly or yearly for as many years as you would like. Count, sum or average results in the output window. Results can be copy/pasted as if you were using Excel.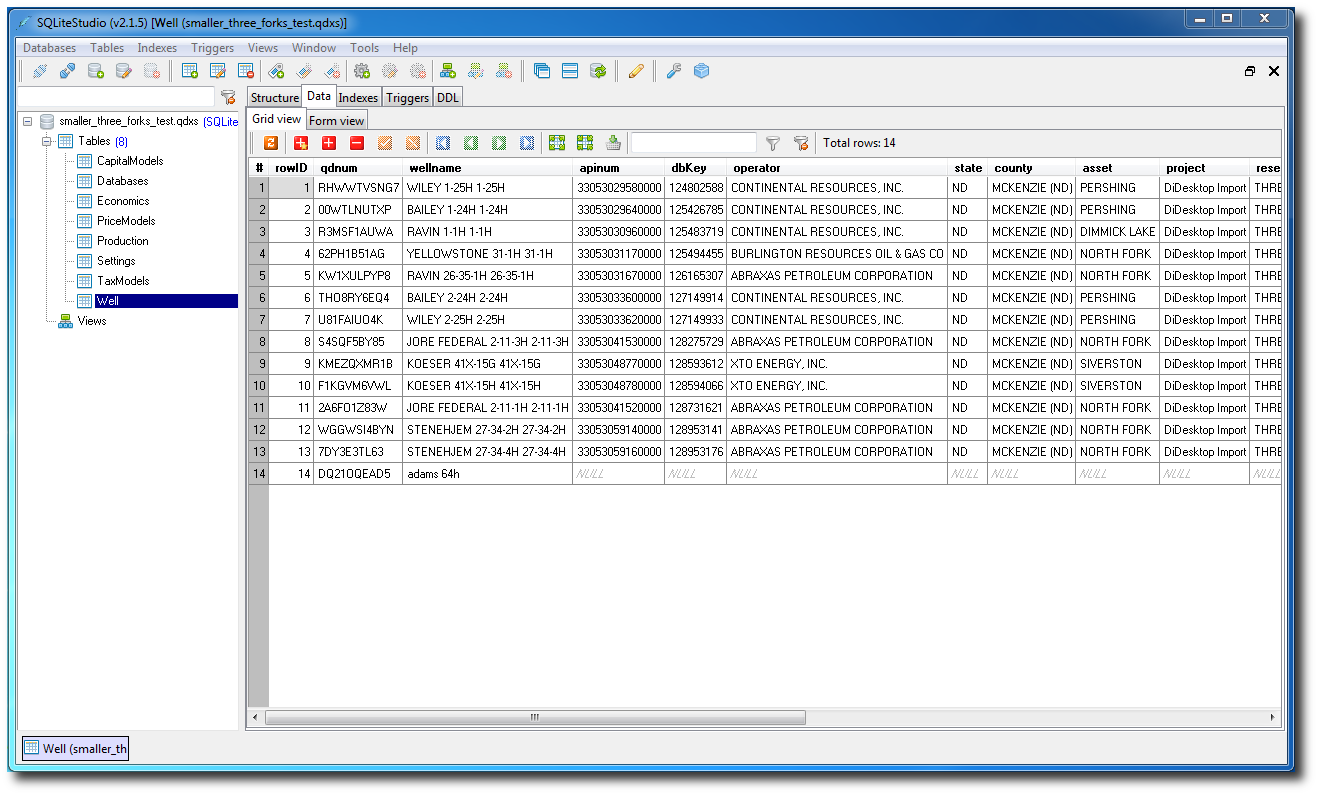 Open-Source Database
Love Excel, Tableau or Spotfire? We do, too. That is why we built QuickDecline based on an open-source database, Sqlite3. Feel free to use your favorite business intelligence software or Sqlite3 editor (we recommend SqliteStudio). Simply add a Sqlite3 ODBC driver to your machine to make BI software plug and play. This also allows for QuickDecline projects to be completely portable. Work in a shared project on the network, or email your final project to the associates.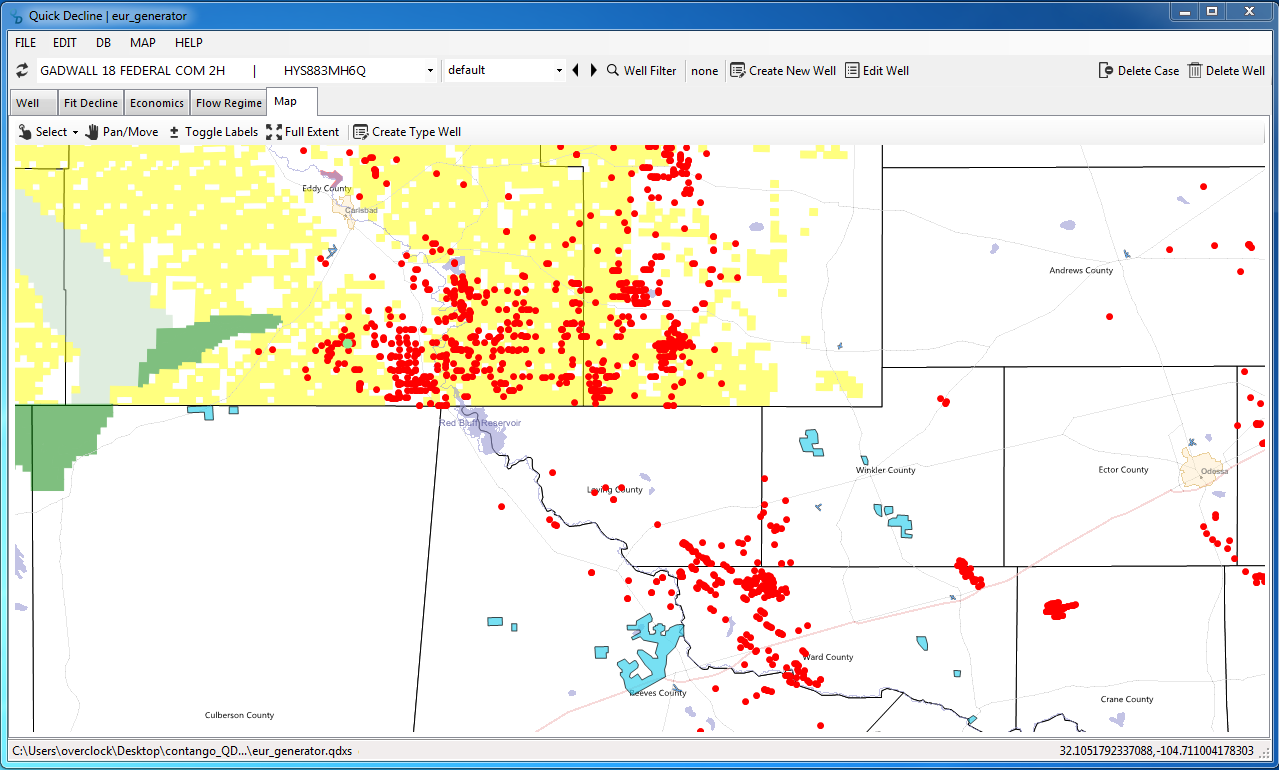 GIS-Capable Maps
The map comes preloaded with an Esri shapefile of the world's borders and US counties. The map allows you to select wells aerially to create aggregates or type curves or simply bring up a single well's production. Zoom close enough and the well names appear so you have a sense of relativity when you perform your analysis. The map can plot any shapefile or wms server for maximum mapping flexibilty. We plan to do a whole lot more with the mapping module.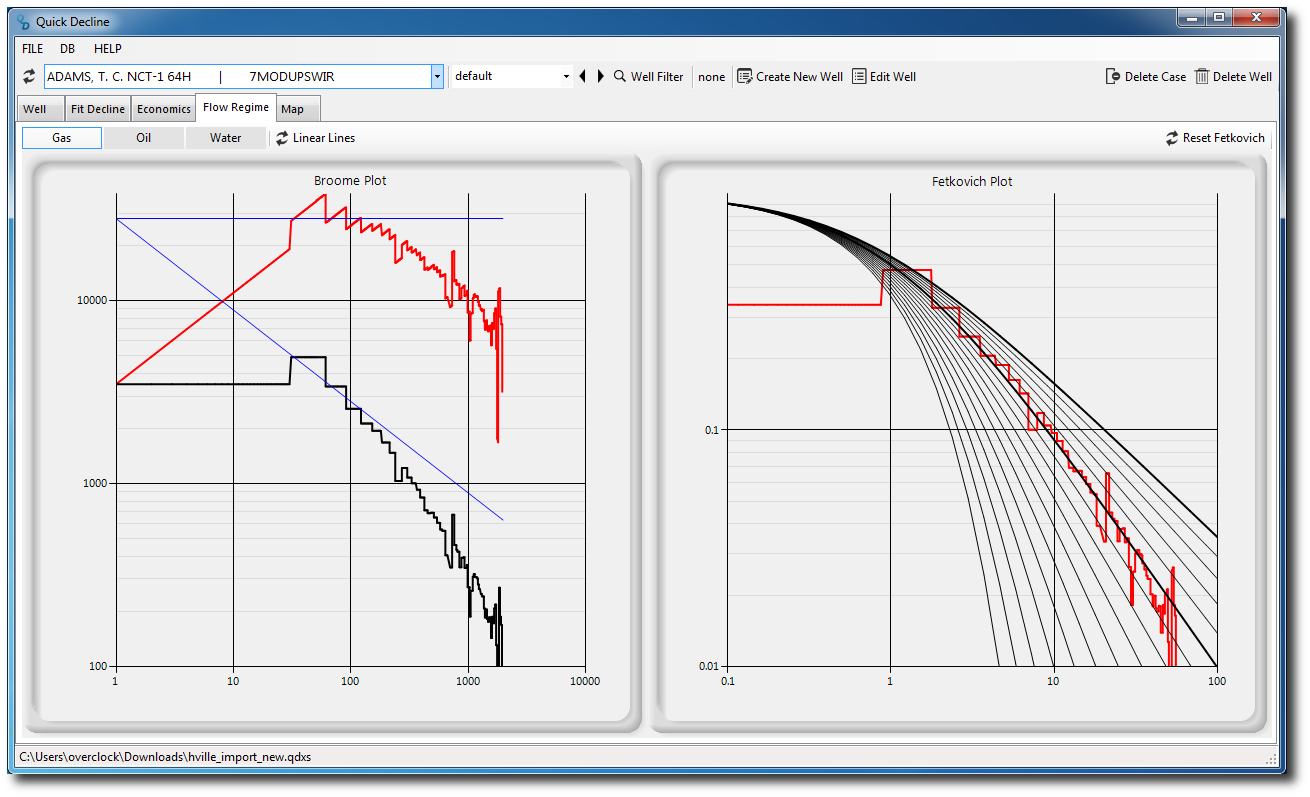 Advanced Well Diagnostics
Use our advanced diagnostic module to determine if the well is ready for its forecast. The plots can also help you choose which B factor is most appropriate. The plots are great for identifying operational issues with your well's production.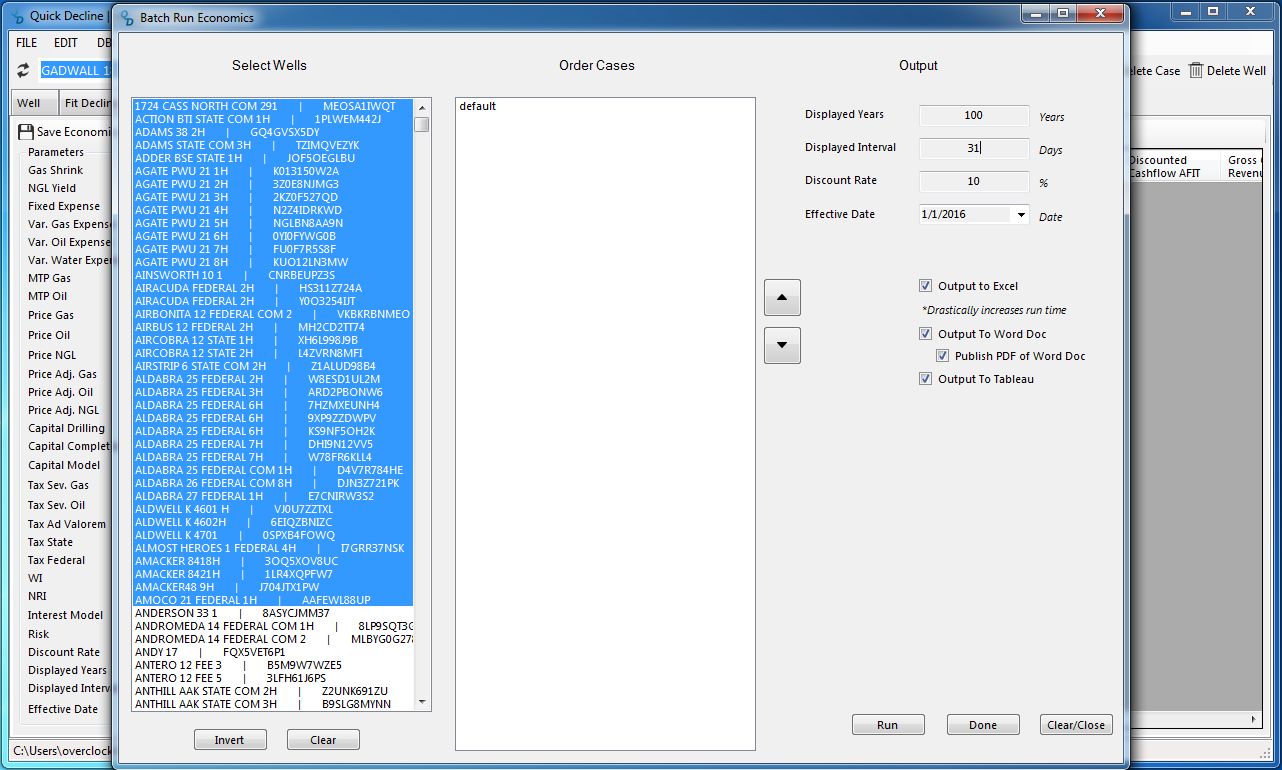 Batch Economics and Cases
If you would like to run economics on an entire field or a random group of wells, QuickDecline makes it easy. Want to see how your company's Cotton Valley program did last year? Use the reservoir filter and run the economics in batch mode with the intelligent auto-effective date setting. It is really that easy.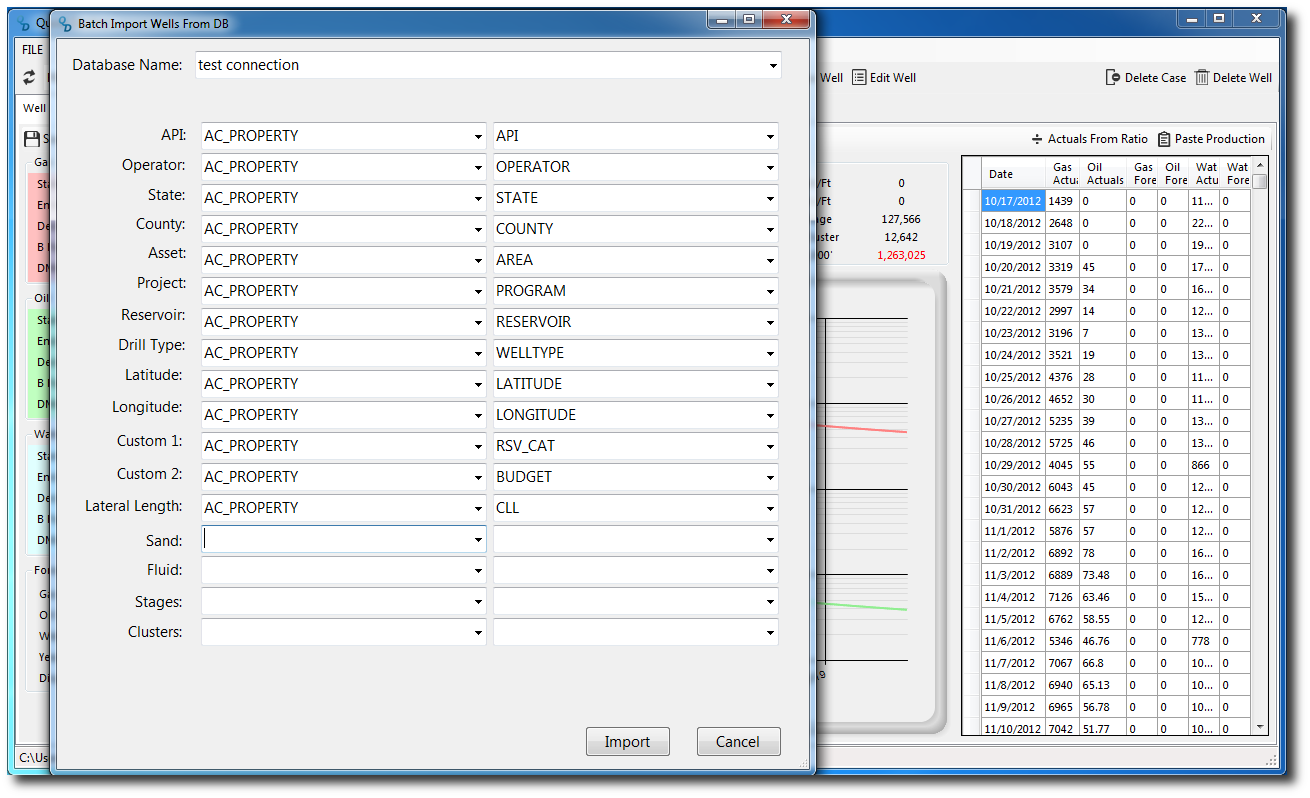 Map Your Unique Databse
Is your database unique? No worries. We can handle it. Use our quick and easy mapping module to make working with your database a cinch.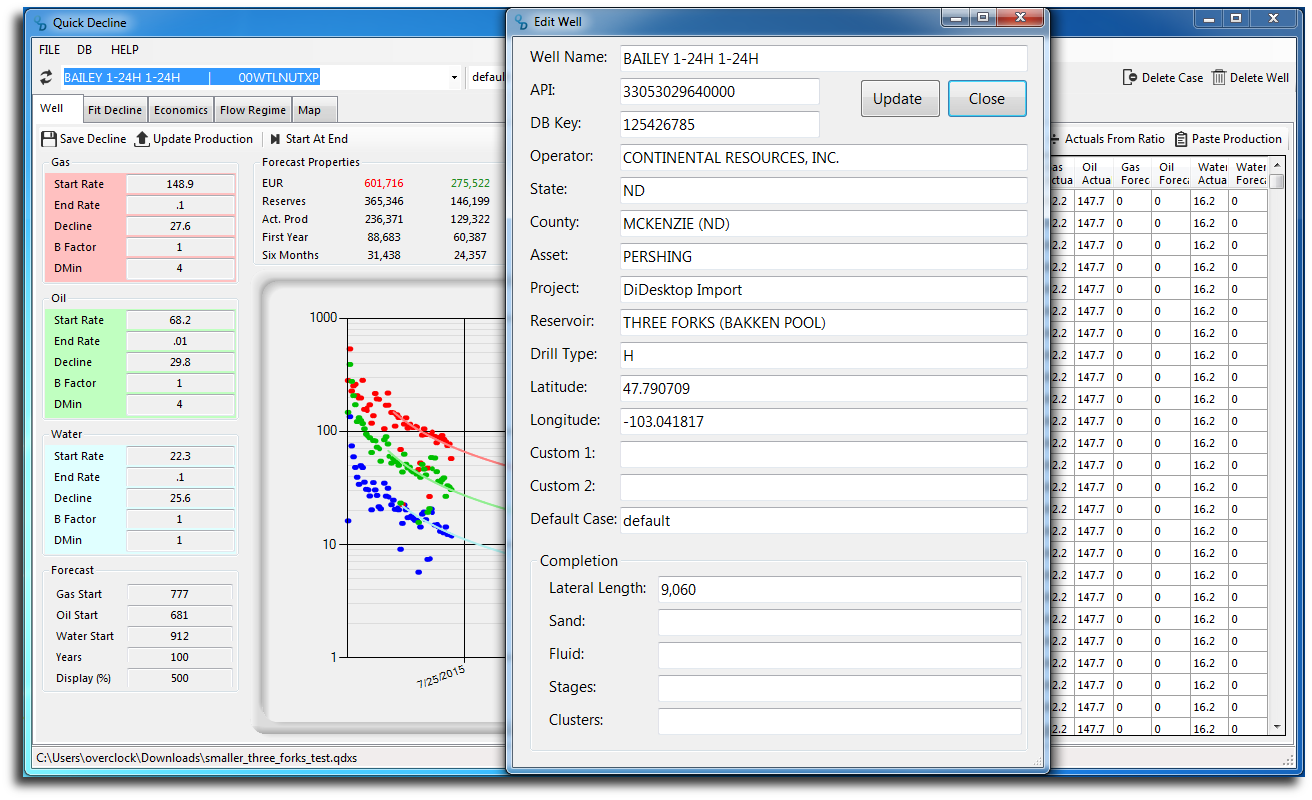 Easily Create or Edit Wells
If you don't have data tools or a well database then don't worry. Our user-friendly interface creates and edits well modules, allowing you to easily create a new well or update an old one.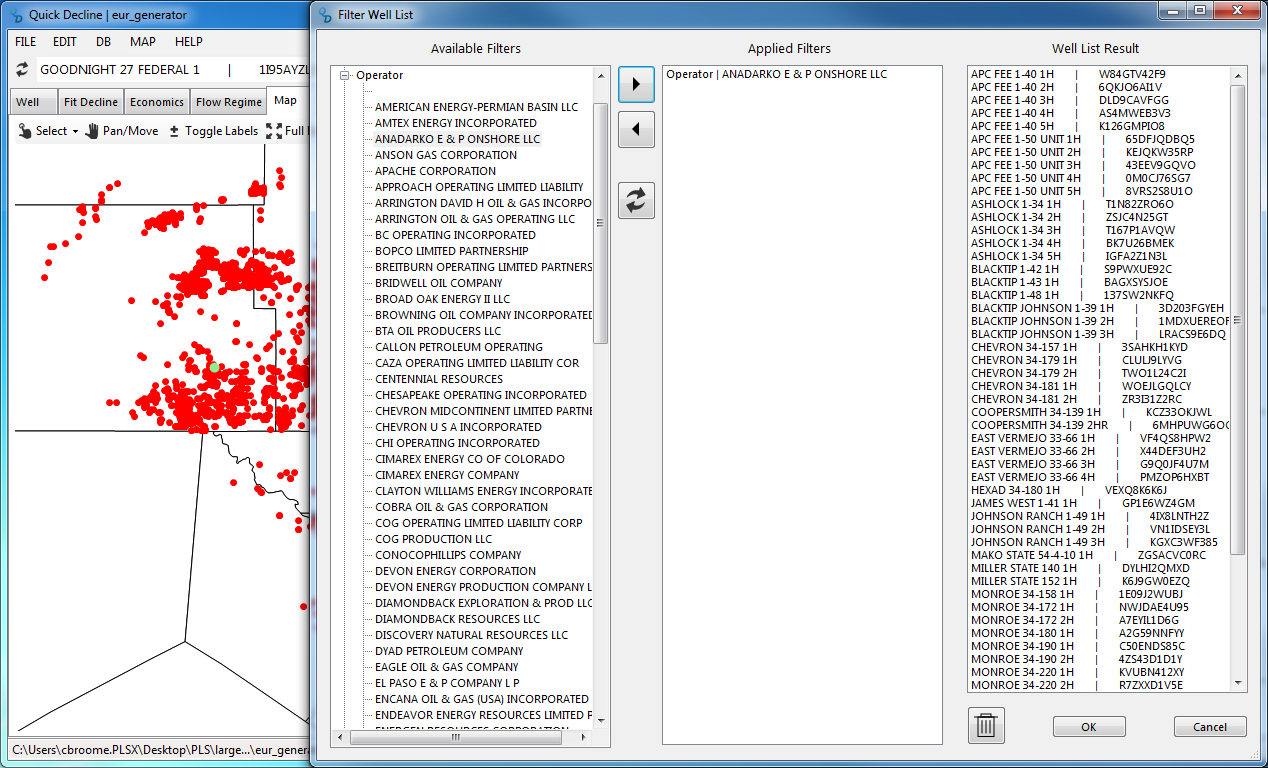 Handling Large Data Sets
QuickDecline comes with a filtering mechanism to make working in a large project much easier. The speed of the database and software can handle very large data sets.