Marketmakers An Energy Outlook Forum
Bullish Strategies in a Bear Market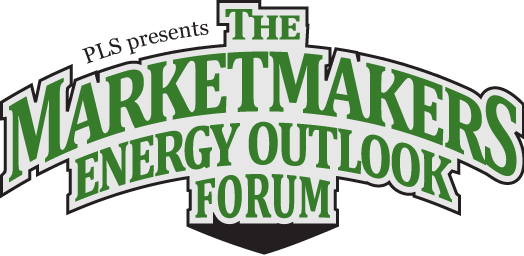 MarketMakers is an energy outlook forum custom designed for energy executives and industry experts in exploration, production, investment banking, capital markets, trading, M&A and downstream operations to share experiences, opportunities & positive ideas in a volatile market.
MarketMakers explores new and existing opportunities for capital formation, exploration, hedging, pricing, services and asset transactions. Featuring an all-star line-up, Marketmakers is designed to leave delegates with a new and proper perspective for these interesting times.
MarketMakers, brought to you by PLS, Inc. The company is also a leading conference and exposition host with fifteen years experience with Dealmakers (asset driven conference) and Playmakers (an e&p focused event held in Calgary and Houston each year). PLS's early exposition efforts under the Dealmakers brand formed the genesis of Summer Nape.


Speakers Have Included:
| | |
| --- | --- |
| Shannon Burchett | CEO, Risk Limited Corporation Co-Author of, Managing Energy Price Risk and The US Power Market. Burchett |
| Dr. Michael J. Economides | Author "The Color of Oil" and "From Soviet to Putin and Back: The Dominance of Energy in Today's Russia" & Professor of Chemical Engineering, University of Houston |
| A. Michael Schaal | Director Oil & Gas Division, Integrated Analysis & Forecasting, EIA |
| David A. Pursell | Managing Director, Head of Macro Research, Tudor Pickering Holt & Co. Securities & Co-Founding Partner, Pickering Energy Partners, Inc. |
| Dr. Helge Hove Haldorsen | VP Strategy & Portfolio, StatoilHydro |
| V. Frank Pottow | Managing Director, Greenhill Capital Partners LLC |
| Adrian H. Goodisman | Co-Head US & Managing Director, Scotia Waterous |
| Charles Cerria | Associate General Counsel - Trading, Hess Corporation |
| James P. Benson | Founding Partner, Energy Spectrum Capital & Managing Director, Energy Spectrum Advisors |
| In Seon Hwang | Managing Director - Energy, Warburg Pincus, LLC |
| Richard A. Vaccari | Vice President M&A, Sempra Energy |
| John Gargani | VP Economic Planning & Acquisitions, Southwestern Energy Co. |
| Cameron O. Smith | Head ofThe Rodman Energy Group & Senior Managing Director Rodman & Renshaw, LLC |
| Townes G. Pressler, Jr. | Managing Director, Lime Rock Partners |
| Allen Gilmer | Co-Founder, Drillinginfo |
| W. Allen Parks | Co-Founder, Parks Paton Hoepfl & Brown |
| Richard L. Burleson | Managing Partner, Burleson Cooke LLP |
| J. Boyd Heath | CEO, Network International, Inc. |
Event Sponsors:





Owned & Produced By:
PLS Inc.
In Conjunction With:
P&P A&D Transactions Capital Markets