InternationalCapital
Serving the global finance market with news, analysis and business opportunities.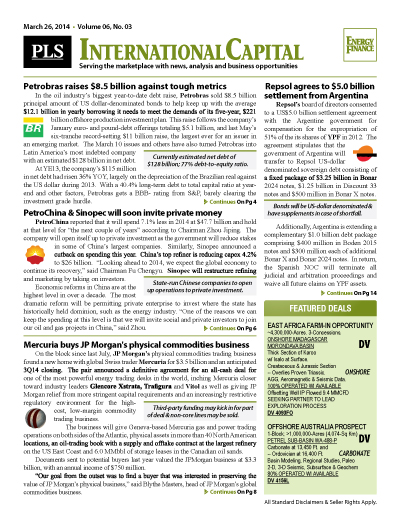 PLS publishes news and analysis in the energy finance sector through its InternationalCapital module. The green banner report includes news and analysis on company budgets, capital spending, financial performance and interviews with leading capital providers
Your access to energy finance
Single copy pricing; Incl hard copy & email version
Increase market insight & deal flow
Every 3 weeks
Covers financings, capex, earnings, new companies
Includes market analysis and new trends
Access to InternationalCapital archives
Phone request for multiple listings for sale
Includes discounts for other PLS products & events
Search PLS' News Archive for complete oil & gas news for InternationalCapital .
See what it is about before you buy. View a sample issue of InternationalCapital.
Need more information? Click the button to recieve more details about the InternationalCapital
Opportunity is a reflection of information.
Call 713-650-1212 For More Information
Search InternationalCapital:

Headline
Publication
News Date
Total issues $1.25B in notes, reports best results in five years
Total issued $1.25 billion aggregate principal amount of 3.455% guaranteed notes due 2029 at 100, bringing its total bonds and notes outstanding up to more than $41.5 billion. The company's combined total debt amounts to almost $61.5 billion, including the new notes. Goldman Sachs, Morgan Stanley, MUFG, Société Générale, BBVA and Credit Suisse underwrote the notes, proceeds from which will be used for general corporate purposes. The issuing entity was the A+ rated French supermajor's...
Feb 27, 2019
All banked up, Aramco's global debt debut could hit $15B
After a short five-day RFP process in late January, Saudi Aramco chose JP Morgan, Morgan Stanley, Citi, HSBC and the quasi-state-owned National Commercial Bank to help it raise debt for its purchase of a 70% stake in Saudi Arabian Basic Industries Corp., sources told Reuters on Feb. 14. Aramco's first-ever international bonds will likely be launched in Q2 and be worth $10 billion, according to Saudi Energy Minister Khalid al-Falih, though a Dubai-based chief investment officer at a global firm...
Feb 27, 2019
Australian E&Ps in 2018: The year of living profitably
Woodside Petroleum and Santos Ltd., long viewed as Australia's most prolific domestic E&Ps both onshore and off, were joined last year by Beach Energy, which is now the largest Aussie onshore producer. All three came up jet black in their recent earnings reports—Woodside's best since 2014, a reversal of years of misfortune for Santos and a half-year for Beach that was, for lack of a better metaphor, a day at the beach. Woodside earned $1.36 billion in 2018, up 28% YOY, as it increased...
Feb 27, 2019
BP issues notes, celebrates best upstream result since '10
BP PLC issued $2 billion aggregate principal amount in notes through its recently formed US-based financial arm, BP Capital Markets America. The company sold $1 billion in 3.41% guaranteed notes due 2026 and $1 billion in 4.234% guaranteed notes due 2028 that were a further issuances to notes that were initially issued last November. The 2026s were sold at 100 while the 2028 add-ons were sold at 104.965. BNP Paribas, Deutsche Bank, HSBC, Lloyds, Merrill Lynch and Morgan Stanley underwrote the...
Feb 27, 2019
Aker Energy's owners consider an IPO ahead of Ghana project
Aker Energy AS could be one of the energy industry's next initial public offerings, according to parent company Aker ASA's president and CEO Øyvind Eriksen. A plan to develop an offshore oil field in Ghana's deepwater Tano-Cape Three Points block will be submitted to Ghanaian regulators and Eriksen told shareholders in a 4Q18 earnings report that investors could "participate through an IPO or other transaction" after the plan has been approved. The company successfully drilled the...
Feb 27, 2019
Aker BP increasing spending 23% to $1.6B this year
Aker BP CFO David Torvik Tønne said the company will spend $1.6 billion this year with heavy focus on Valhall and Johan Sverdrup, with $500 million of it for Norwegian North Sea exploration. In all, it plans 15 exploration wells targeting net prospective resources of 500 MMboe. This year the board proposes to pay out a total of $750 million in dividends, up from $450 million last year. The goal for next year, according to CEO Karl Johnny Hersvik, is to start increasing dividends by $100...
Feb 27, 2019
EDF expecting 2019 EBITDA to show modest to flat growth
Paris-based EDF reported 2018 EBITDA of €15.3 billion, an organic 11% increase from 2017, although the utility giant disappointed observers with a conservative FY19 outlook of €15.3-16.0 billion. Market consensus was around €16.0 billion in 2019 and did not expect the possibility of flat earnings. While EVP of finance Xavier Girre said EDF is "very confident" of continued earnings growth during an earnings conference call on Feb. 15, the outlook downplayed the hydro segment and EDF...
Feb 27, 2019
IPC increases capex a minimum 265% to $146-166MM range
International Petroleum Corp., the mid-2017 Lundin Petroleum spinoff that trades on Nasdaq Stockholm and the Toronto Stock Exchange, released a 2019 capital expenditure budget of $146-166 million, which would quadruple its 2018 spending of $40 million. The multi-region IPC will work on the Keruing exploration well and other optimization work in Malaysia, and a return to its Vert La Gravelle development in France. In Canada, it will continue its Suffield, Onion Lake and Blackrod projects. IPC...
Feb 27, 2019
Carlyle's Romanian energy unit approves $400MM FID
Black Sea Oil & Gas, owned by The Carlyle Group's International Energy Partners and the European Bank for Reconstruction and Development, agreed to a $400 million final investment decision on Feb. 7 to develop the Midia gas project offshore Romania, the first Romanian offshore gas project in 30 years. BSOG owns 65% of the project, which contains the XV Midia Shallow block and XIII Pelican block concessions, with 20% partner Petro Ventures Resources, also of Romania, and the unit of Italy's...
Feb 27, 2019
Transgaz to spend over $2B through '27 on pipelines network
Romania's Transgaz plans to spend €1.9 billion ($2.16 billion) to expand its national network of pipelines, according to a development plan spanning 2018-2027 that was submitted for approval by its shareholders at the general meeting on March 11. The biggest project on the agenda is BRUA, which connects Romania with Bulgaria, Hungary and Austria and will cost €479 million for phase one and almost €600 million more for subsequent phases. The company is also responsible for building...
Feb 27, 2019
Get more news for InternationalCapital