InternationalCapital
Serving the global finance market with news, analysis and business opportunities.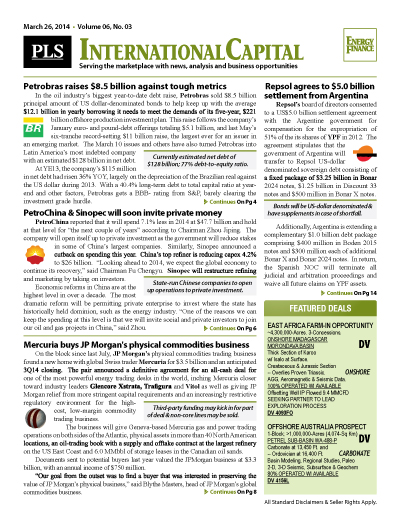 PLS publishes news and analysis in the energy finance sector through its InternationalCapital module. The green banner report includes news and analysis on company budgets, capital spending, financial performance and interviews with leading capital providers
Your access to energy finance
Single copy pricing; Incl hard copy & email version
Increase market insight & deal flow
Every 3 weeks
Covers financings, capex, earnings, new companies
Includes market analysis and new trends
Access to InternationalCapital archives
Phone request for multiple listings for sale
Includes discounts for other PLS products & events
Search PLS' News Archive for complete oil & gas news for InternationalCapital .
See what it is about before you buy. View a sample issue of InternationalCapital.
Need more information? Click the button to recieve more details about the InternationalCapital
Opportunity is a reflection of information.
Call 713-650-1212 For More Information
Search InternationalCapital:

Headline
Publication
News Date
Gunvor $800MM refi over book before syndication
Gunvor will refinance its annual credit facility for its Singapore operations with an $800 million revolving credit facility, which has a dual-tranche structure with 364-day and three-year...
May 03, 2018
India seeks to create Asian oil buyers' alliance
India wants to establish a buyer's network of Asian countries which purchase oil imports to negotiate better terms with sellers. The network would include major oil consumers such as China, South...
May 03, 2018
Woodside reports 1Q18 revenue of $1.2 billion
Woodside Petroleum Ltd. reported 1Q18 revenue of $1.2 billion, up 30% YOY, as its production rose 3.4% and its average realized price for hydrocarbons rose 16% from a year ago.In a Q1...
May 03, 2018
Get more news for InternationalCapital