Company Directory & Select Professionals
Management Team
Mission Statement
PLS Inc., & Petroleum Listing Service
Information, Transactions and Advisory Services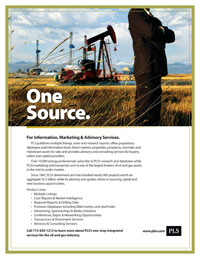 PLS is an integrated information, transaction and advisory firm with 75 plus professionals and affiliates in
Houston, Fort Worth, Midland, Washington D.C., New York, Denver, New Orleans, Louisville, Calgary, Paris and Geneva.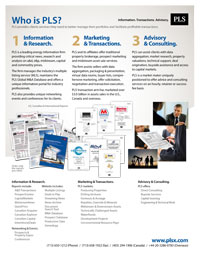 Mission Statement
PLS is an information, marketing and advisory firm that has a 30 plus year history originating deals for buyers, sellers and capital providers while also reducing client transaction cost. The firm has been consistently out front with innovative products and entrepreneurial energy and a mandate to establish an integrated product line that feeds off and supports cross products. PLS company now employs over 75 professionals across the U.S. with additional personnel in Calgary, London and Paris.
The PLS information and research arm now publishes
20 industry reports
including six (6) US Core Reports, eight (8) US Regional Reports, three (3) in Canada and three (3) international reports. PLS' unique coverage of acquisitions, exploration, energy finance, midstream, oilfield services and product prices have established PLS core reports as a "must read" for industry insight, market analysis and business opportunities.
In addition to publishing, PLS offers premium databases on a subscription basis. These premium products include
M&A Metrics
,
PetroScout
,
Capitalize
(energy finance platform),
docFinder
(a unique document search tool),
PetroWire
(global project tracking tool), a new corporate intelligence product and production data. On the networking front, PLS pioneered the first prospect and property expo, even before Nape, and now hosts regional
Dealmakers
expos for buyers and sellers.
PLS Energy Advisors Group
handles transactions for sellers in the mid market. Since late 2016, the PLS divestment team has closed multiple high profile deals including Atinum, Yuma, Millennial Energy and AIX/Antero. PLS divestment arm is one of the industry's busiest shops usually averaging about 30 assignments at any one time including sales of properties, nonoperated interests, overrides, acreage, prospects, and midstream assets. PLS Energy Advisors has worked on over $8.0 billion in deals over the past 25+ years.
On the advisory side, PLS offers consulting and advisory services to companies including technical support, capital markets and buy side origination. PLS recently originated and facilitated Toyota's $600 mm joint venture with Encana in Calgary. PLS has provided other consulting services for Anadarko, Bettis Boyle Stoval, Duer Wagner, ERG, Newpek, Melrose Resources, Repsol, Statoil, Sojitz and YPF.
Contact us for questions about the product