CapitalMarkets
Serving the finance market with news, analysis and investment opportunities.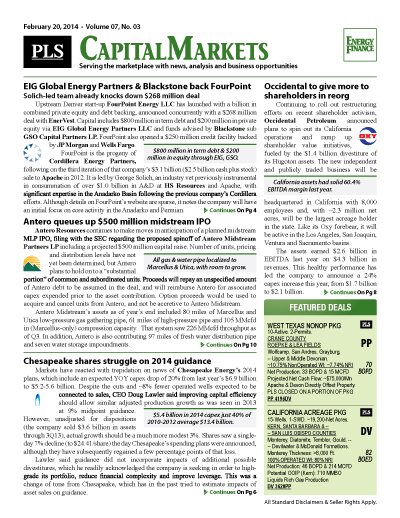 PLS publishes news and analysis in the energy finance sector through its capital markets module. The green banner report includes news and analysis on company budgets, capital spending, financial performance and interviews with leading capital providers.
Your access to energy finance
Single copy pricing; Incl hard copy & email version
Increase market insight & deal flow
Every 3 weeks; 17+ issues per year
Covers financings, capex, earnings, new companies
Includes market analysis and new trends
Access to capital market archives
Phone request for multiple listings published in reports
Includes discounts for other PLS products & events
Are you looking to subscribe to Capitalize? Click here for the latest Capital Markets Report
Search PLS' News Archive for complete oil & gas news for CapitalMarkets .
See what it is about before you buy. View a sample issue of CapitalMarkets.
Need more information? Click the button to recieve more details about the CapitalMarkets
Opportunity is a reflection of information.
Call 713-650-1212 For More Information
Search CapitalMarkets:

Headline
Publication
News Date
CM - Developments & Trends - October 04, 2018
Cibolo Energy Management, LLC closed its first fund Cibolo Energy Partners I, L.P. at $245 million excluding affiliate investments. Cibolo specializes in middlemarket upstream and midstream...
Oct 04, 2018
CM - Analyst Notes - October 04, 2018
Cheniere Energy, Inc. (NYSE: LNG; $68.01-Sept. 21; Market Perform) Completes acquisition of Cheniere Energy Partners LP Holdings, LLC. This simplification transaction between LNG and CQH was...
Oct 04, 2018
Fed hikes rates...though we already knew it would
The Federal Reserve raised interest rates for the third time this year on Sept. 26. The federal funds rate went up a quarter-point to a range of 2.0-2.25%. The hike was expected, and indications are...
Oct 04, 2018
BMO buys $3B in energy loans from Deutsche Bank
Bank of Montreal acquired a portfolio of about $3.0 billion in investment grade and sub-prime energy loans from Deutsche Bank AG, after the German bank announced it was closing its Houston office and...
Oct 04, 2018
CM - Credit & Debt Briefs - October 04, 2018
Callon Petroleum Co. entered into a second amendment to its existing $2.0 billion senior secured revolving credit facility on Sept. 27 to raise the borrowing base to $1.1 billion from $825 million,...
Oct 04, 2018
Get more news for CapitalMarkets