CapitalMarkets
Serving the finance market with news, analysis and investment opportunities.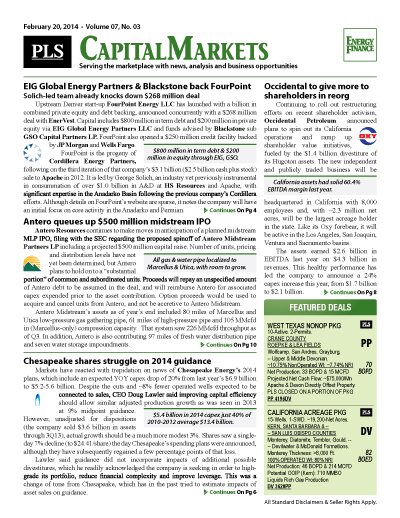 PLS publishes news and analysis in the energy finance sector through its capital markets module. The green banner report includes news and analysis on company budgets, capital spending, financial performance and interviews with leading capital providers.
Your access to energy finance
Single copy pricing; Incl hard copy & email version
Increase market insight & deal flow
Every 3 weeks; 17+ issues per year
Covers financings, capex, earnings, new companies
Includes market analysis and new trends
Access to capital market archives
Phone request for multiple listings published in reports
Includes discounts for other PLS products & events
Are you looking to subscribe to Capitalize? Click here for the latest Capital Markets Report
Search PLS' News Archive for complete oil & gas news for CapitalMarkets .
See what it is about before you buy. View a sample issue of CapitalMarkets.
Need more information? Click the button to recieve more details about the CapitalMarkets
Opportunity is a reflection of information.
Call 713-650-1212 For More Information
Search CapitalMarkets:

Headline
Publication
News Date
CM - EnLink Midstream tightening belt with 50% less capex - January 2020
EnLink Midstream's planned 2020 growth capex spending of $275-375 billion will be 50% lower than its 2019 spending, as the company looks to cut costs. However, CFO Eric Batchelder said the 2020 number won't require accessing the capital markets and will be funded with cash flow in excess of distributions. On that note, EnLink cut its 4Q19 distribution to $0.1875 per unit from the prior quarter's $0.283 in order to increase free cash flow. With the new annualized rate of $0.75 a unit,...
Feb 03, 2020
CM - New Fortress & Apollo agree to $800MM term loan facility - January 2020
LNG supplier New Fortress Energy announced it signed an $800 million term loan agreement with certain funds and entities managed by Apollo Global Management. The term loan facility has a three-year term and is payable at LIBOR plus 625 bps, subject to a 1.5% LIBOR floor and annual increases in the interest rate spread. The company said it would use the money to fund energy infrastructure projects and to pay off a $500 million term loan. Apollo co-president James Zelter called New Fortress "a...
Jan 31, 2020
CM - Hess Corp. budgets $3B for Bakken, Guyana & more growth - January 2020
Hess Corp. announced a $3 billion exploration and production capital budget for 2020. More than 80% of the allocations will be for "high return investments" in Guyana and the Bakken. Production activities will use $1.69 billion, or 56%, of the budget while $860 million, or 29%, will be spent for offshore Guyana development, and $450 million, or 15%, for exploration and appraisal activities. Hess will maintain a six-rig program in the Bakken through the year, costing $1.375 billion to drill...
Jan 31, 2020
CM - Parsley pays $1.66B to JAG shareholders, assumes debt - January 2020
Shares of Jagged Peak Energy Inc. were removed from the NYSE trading following the Jan. 10 completion of the $1.66 billion buyout of its shares by Parsley Energy Inc. The day before, more than 99.5% of the votes cast by Parsley shareholders approved the proposal to issue 0.447 Class A common shares for each Jagged Peak share. The sharebased consideration represented an implied value of $7.59 a share, or 11.2% premium, for Jagged Peak based on its Oct. 11 closing price of $16.97. Parsley...
Jan 31, 2020
CM - Magellan launches $750MM equity buyback through 2022 - January 2020
Directors of Magellan Midstream Partners, LP approved a plan to repurchase up to $750 million of its common units through 2022. The partnership will buy the units from time to time through open-market purchases and negotiated transactions. Factors such as expected expansion capital needs, alternative investment opportunities, excess cash and legal and regulatory requirements, as well as market condition, would affect the timing and price paid for the repurchased units. "Magellan remains...
Jan 31, 2020
CM - CrossAmerica Partners the next to break the IDR stranglehold - January 2020
Fuel distributor CrossAmerica Partners LP announced an agreement to get rid of all incentive distribution rights in exchange for about 2.5 million newly issued common units with a total equity value of about $45 million. The partnership also signed a definitive agreement with entities affiliated with chairman Joe Topper to acquire for $36 million the retail operations at 172 sites, wholesale fuel distribution to 114 sites, including 55 third-party wholesale dealer contracts, and a leasehold...
Jan 31, 2020
CM - International Seaways refinances with $390MM of new loans - January 2020
Oil tanker owner International Seaways closed on $390 million of senior secured credit facilities. The core facilities are a $300 million, five-year senior secured term loan and a $40 million, five-year revolving credit facility. In addition, there is a $50 million senior secured term loan transition credit facility with a two-and-a-half-year maturity. The company has already drawn down in full both of its term loan facilities and $20 million on the revolver. The core facilities are...
Jan 31, 2020
CM - Schlumberger exits some businesses, reports $10.1B net loss - January 2020
Schlumberger, the world's largest oilfield services company, reported a net loss for 2019 of $10.1 billion on revenue of $32.9 billion, compared with $2.14 billion in net income on $32.8 billion of revenue YOY. Excluding charges that included an over $8.8 billion impairment of goodwill and over $1 billion in asset write-downs, the company made $2.05 billion last year. Schlumberger reduced its frac horsepower capacity by 50%, exited the onshore coiled tubing business in North America,...
Jan 31, 2020
CM - Halliburton reports fourth annual net loss, this time at $1.13B - January 2020
Halliburton reported a $1.13 billion net loss for 2019 on revenue of $22.4 billion, writing down $1.6 billion in assets and incurring $2.5 billion in other operating expenses. It earned $1.66 billion on revenue of $24 billion in 2018. The 2019 operating loss of $448 million compared with operating income of $2.5 billion in 2018. Adjusted operating income was $2.1 billion versus $2.7 billion for 2018. CEO Jeff Miller said the company needed a "new playbook" to handle the current market....
Jan 31, 2020
CM - Baker Hughes earns $271MM on $23.8B of revenue in 2019 - January 2020
In 2019, the year Baker Hughes regained much of its autonomy from GE, the company earned $271 million in 2019 on $23.8 billion of revenue, compared with $259 million on $22.9 billion of revenue YOY. In 4Q19, it earned $48 million on $6.35 billion of revenue compared with $57 million in 3Q19 and $131 million in 4Q18, on revenue that was up, respectively by 8% and 1%. Baker Hughes was the only one of the "Big 3" oilfield services companies to report net income for 2019. In the last...
Jan 31, 2020
Get more news for CapitalMarkets