CapitalMarkets
Serving the finance market with news, analysis and investment opportunities.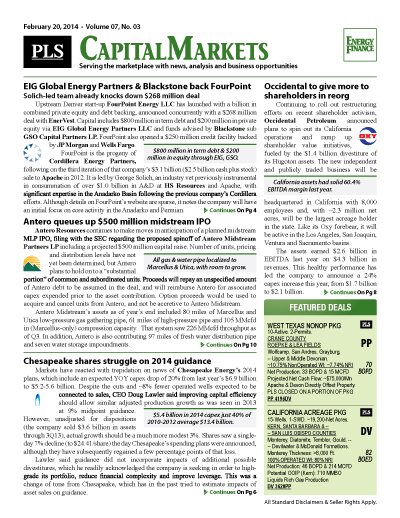 PLS publishes news and analysis in the energy finance sector through its capital markets module. The green banner report includes news and analysis on company budgets, capital spending, financial performance and interviews with leading capital providers.
Your access to energy finance
Single copy pricing; Incl hard copy & email version
Increase market insight & deal flow
Every 3 weeks; 17+ issues per year
Covers financings, capex, earnings, new companies
Includes market analysis and new trends
Access to capital market archives
Phone request for multiple listings published in reports
Includes discounts for other PLS products & events
Are you looking to subscribe to Capitalize? Click here for the latest Capital Markets Report
Search PLS' News Archive for complete oil & gas news for CapitalMarkets .
See what it is about before you buy. View a sample issue of CapitalMarkets.
Need more information? Click the button to recieve more details about the CapitalMarkets
Opportunity is a reflection of information.
Call 713-650-1212 For More Information
Search CapitalMarkets:

Headline
Publication
News Date
CM - Chesapeake swaps $588MM in notes & preferred for common - September 2019
Chesapeake Energy entered a securities exchange agreement with a large investor to retire $547.8 million aggregate principal amount of senior notes and $40 million principal amount of its 5.75% convertible preferred shares. In exchange, Chesapeake will issue 250,721,544 common shares, representing roughly 15% of the company's current outstanding shares. Based on the prior-day closing stock price of $1.89/share, the securities swap represents a 19% discount to the aggregate par value of the...
Sep 13, 2019
CM - MPLX to issue up to $5.75B in notes as it swallows ANDX debt - September 2019
MPLX LP closed $2 billion in unsecured senior notes Sept. 9 in an underwritten public offering consisting of $1 billion of floating rate senior notes due 2021 and $1 billion of floating rate senior notes due 2022. The master limited partnership of Marathon Petroleum Corp. intends to issue more notes as it refinances all $3.75 billion outstanding senior notes of Andeavor Logistics, which it acquired in a deal that closed July 30. The partnership intends to use some of the net proceeds...
Sep 13, 2019
CM - Private equity giant Blackstone looks to take Tallgrass private - September 2019
Blackstone Infrastructure Partners is bidding to take Tallgrass Energy private, offering $3.03 billion cash to acquire the remaining 156 million Class A shares it doesn't own. The transaction is also the latest sign that private equity firms are stronger believers in midstream than other stock market investors. BIP will assume $1.92 billion in longterm debt and $73 million of working capital deficit, bringing the transaction to $5.025 billion. Excluding corporate simplifications,...
Sep 13, 2019
CM - Paulson opposing Callon's proposed Carrizo acquisition - September 2019
Paulson & Co. Inc., which holds 9.5% of Callon Petroleum Co.'s outstanding shares, submitted a letter to Callon's board opposing the company's proposed $3.2 billion acquisition of Carrizo Oil & Gas Inc. and urged the board to pursue a sale of Callon instead. The Houston-based E&P firm said it remained confident the addition of Carrizo would make a stronger company. The proposed acquisition has not pleased shareholders as CPE share prices on the NYSE have fallen 36% since the...
Sep 13, 2019
CM - Alta Mesa enters bankruptcy protection after turbulent year - September 2019
Alta Mesa Resources LP and several affiliates filed a voluntary bankruptcy petition. The Chapter 11 filing follows a year of leadership churn, staff layoffs, delayed earnings reports, and a Securities and Exchange Commission investigation for possible fraud. The filing includes Alta Mesa Holdings GP LLC, OEM GP LLC, Alta Mesa Finance Services Corp., Alta Mesa Services LP and Oklahoma Energy Acquisitions LLC. Alta Mesa's midstream platform, Kingfisher Midstream LLC, and its subsidiaries...
Sep 13, 2019
CM - WPX upsizes debt issuance and launches cash tender offers - September 2019
WPX Energy has priced at par an underwritten public offering of $600 million of its 5.25% unsecured senior notes due 2027, a $100 million upsize from its original offer. The expected $592.5 million in net proceeds from the offering will be used to fund cash tender offers of up to $450 million aggregate principal amount of its outstanding 6% senior notes due 2022 and 8.25% senior notes due 2023. Any excess net proceeds from the debt issuance will be used for general purposes, including paying...
Sep 13, 2019
CM - CRC gets $500 million PE infusion for Elk Hills drilling - September 2019
Alpine Energy Capital, LLC recently closed $500 million financing for a drilling JV with California Resources Corp., the state's largest E&P company. The transaction is the first investment of a new JV of Colony Capital Inc. and Equity Group Investments, the private firm of billionaire Sam Zell. Houston-based Alpine has committed $320 million in the first tranche of the drilling JV that will be used to develop ~275 wells over three years at CRC's flagship Elk Hills field to earn an...
Sep 13, 2019
CM - Midstream takes center stage during first part of September - September 2019
The energy capital markets space had a strong midstream component in the first 10 days of September. Midstream companies issued $5.95 billion of the $7.05 billion aggregate principal senior notes during this period, according to Enverus' Capitalize platform. Midstream represented 84% of notes announced Sept. 1-10, compared with 38% of notes so far in 2019. MPLX, the master limited partnership of Marathon Petroleum Corp., had the largest public offering, closing $2 billion in floating...
Sep 13, 2019
CM - PetroShare blames Colorado regulation as it files Chapter 11 - September 2019
Colorado-based E&P company PetroShare Corp. filed for Chapter 11 bankruptcy protection on Sept. 4, blaming the impact of regulation uncertainty in the state. The company, which operates at Wattenberg field in the DJ Basin, is looking to recapitalize but may sell some or all its assets. At YE18, its reserves were 7.325 MMboe. "The new Colorado regulatory environment governing oil and gas permitting in the state and the associated uncertainty on rule-making has made it very difficult to...
Sep 13, 2019
CM - Upstream Capital Raises Briefs - September 13, 2019
Cabot Energy Inc. entered a nonbinding term sheet for an asset-level loan facility of up to C$5 million ($3.8 million) with a private energy lender to fund a winter work program. The Canadian subsidiary of London-based Cabot Energy plc expects to draw down the first advance of C$2.5 million about Nov. 30 and the remainder in early 2020. The 11.5% loan will mature Sept. 30, 2021. The winter program will consist primarily of four new horizontal development wells to produce existing proven...
Sep 13, 2019
Get more news for CapitalMarkets