CapitalMarkets
Serving the finance market with news, analysis and investment opportunities.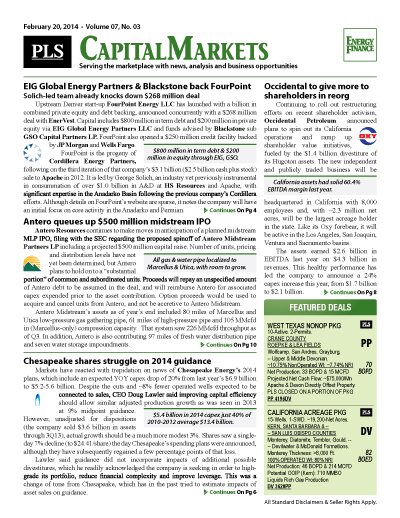 PLS publishes news and analysis in the energy finance sector through its capital markets module. The green banner report includes news and analysis on company budgets, capital spending, financial performance and interviews with leading capital providers.
Your access to energy finance
Single copy pricing; Incl hard copy & email version
Increase market insight & deal flow
Every 3 weeks; 17+ issues per year
Covers financings, capex, earnings, new companies
Includes market analysis and new trends
Access to capital market archives
Phone request for multiple listings published in reports
Includes discounts for other PLS products & events
$ 695 /Yr
Are you looking to subscribe to Capitalize? Click here for the latest Capital Markets Report
Search PLS' News Archive for complete oil & gas news for CapitalMarkets .
See what it is about before you buy. View a sample issue of CapitalMarkets.
Need more information? Click the button to recieve more details about the CapitalMarkets
Opportunity is a reflection of information.
Call 713-650-1212 For More Information
Search CapitalMarkets:

Headline
Publication
News Date
Analyst Takes - November 22, 2017
ProPetro Holding Corp. (PUMP: $17.00- Nov. 13; Strong Buy; PT-$20)We are revising our FY17 EBITDA estimate to $107M from $102M and our FY18 EBITDA estimate to $271M from $265M. ProPetro has...
Nov 22, 2017
Breitburn Energy amends Chapter 11 financing
Upstream master limited partnership Breitburn Energy announced that the sixth amendment to its $150 million debtor-in-possession financing agreement was approved by the bankruptcy court on Nov. 15....
Nov 22, 2017
CVR ABL facility upped to $400MM
CVR Refining LP and affiliates amended their asset-based lending credit facility with a group led by Wells Fargo to enlarge the ABL to $400 million with an incremental facility from $200 million,...
Nov 22, 2017
Get more news for CapitalMarkets