CanadianCapital
Serving the Canadian finance market with news, analysis and business opportunities.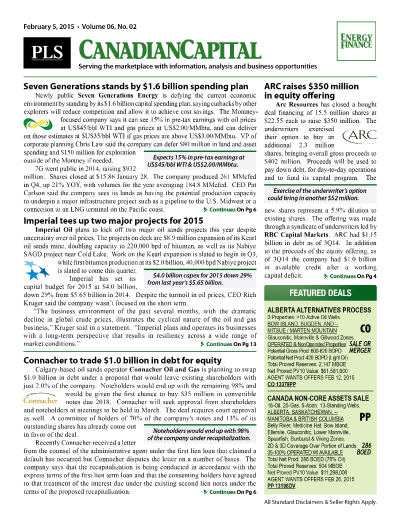 The CanadianCapital (green banner report) covers news and analysis on the energy finance sector, including company budgets, capital spending, financial performance and interviews with leading capital providers. The timely research report also contains analysis of public and private financings as well as tracks trends in capital availability from commercial banks, private equity, public markets and other providers.
Your access to Canadian energy finance
Single copy pricing; Includes hard copy & email version
Increase market insight & deal flow
Every 3 weeks
Covers Canadian financings, capex,
earnings, new companies
Includes market analysis & new trends
Access to CanadianCapital archives
Phone request for multiple listings for sale
Includes discounts for other PLS products & events
$ 595 /Yr
Search PLS' News Archive for complete oil & gas news for CanadianCapital .
See what it is about before you buy. View a sample issue of CanadianCapital.
Need more information? Click the button to recieve more details about the CanadianCapital
Opportunity is a reflection of information.
Call 713-650-1212 For More Information
Search CanadianCapital:

Headline
Publication
News Date
Analyst Takes - December 13, 2017
Athabasca Oil Corp. (TSX: ATH, $1.17 – Dec 6, Equal Weight, PT: $1.00)Athabasca provided 2018 guidance, including a budget of $140mn, split evenly between light and thermal oil divisions....
Dec 13, 2017
Capex budgets based on stronger commodity prices
After most Canadian energy companies reported their Q3 earnings, they began announcing capital expenditure budgets for 2018, often based on assumptions that oil and gas prices would continue to...
Dec 13, 2017
People & Companies - December 13, 2017
Athabasca Oil announced that Henry Sykes will step down from the board as a result of a conflict that arose due to his position on a board of a publicly traded company that recently combined...
Dec 13, 2017
OPEC extension helps firm up world oil prices
World oil benchmarks rose moderately, with Brent up $1.10 to $63.73 and WTI up $0.96 to $58.36, after OPEC announced it extended an agreement among the cartel and non-members to restrict its output...
Dec 13, 2017
Wentworth relocates amid corporate restructuring
Wentworth Resources is relocating its headquarters from Calgary to London as part of a restructuring process designed to better align its corporate and management structures with its shareholders and...
Dec 13, 2017
Get more news for CanadianCapital