CanadianCapital
Serving the Canadian finance market with news, analysis and business opportunities.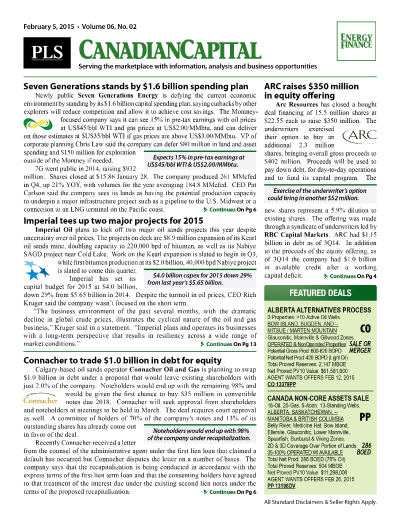 The CanadianCapital (green banner report) covers news and analysis on the energy finance sector, including company budgets, capital spending, financial performance and interviews with leading capital providers. The timely research report also contains analysis of public and private financings as well as tracks trends in capital availability from commercial banks, private equity, public markets and other providers.
Your access to Canadian energy finance
Single copy pricing; Includes hard copy & email version
Increase market insight & deal flow
Every 3 weeks
Covers Canadian financings, capex,
earnings, new companies
Includes market analysis & new trends
Access to CanadianCapital archives
Phone request for multiple listings for sale
Includes discounts for other PLS products & events
Search PLS' News Archive for complete oil & gas news for CanadianCapital .
See what it is about before you buy. View a sample issue of CanadianCapital.
Need more information? Click the button to recieve more details about the CanadianCapital
Opportunity is a reflection of information.
Call 713-650-1212 For More Information
Search CanadianCapital:

Headline
Publication
News Date
Boralex raises $258MM to finance wind farm purchase
Boralex Inc., a builder of renewable energy projects based in Montreal, raised $258 million through two equity issues that will fund its acquisition of $215 million wind farm assets held by Invenergy Renewables. Boralex issued of 10.2 million subscription receipts for $20.20 each to raise $207 million. In addition, it raised $51.8 million through the private placement of common shares with Caisse de dépôt et placement du Québec.The private placement includes the full exercise of 1.3...
Jul 19, 2018
Inventys raises US$11MM to finance plant construction
Inventys Thermal Technologies has raised US$11 million in the first tranche of the issue Series C equity financing to fund construction a 30-ton/day CO2 capture pilot plant which is scheduled to be in operation by 1Q19. The company said it has enough interest from strategic investors to place an additional US$10 million in equity. The Roda Group and Chevron Technology Ventures have participated in the first tranche. Vancouver-based Inventys did not indicate when the second tranche would occur...
Jul 19, 2018
TransAlta Renewables to pay debt with $150MM issue
TransAlta Renewables has closed a bought deal offering of 11.9 million shares for $12.65 each to raise gross proceeds of $150 million. Net proceeds of the offering will be used to pay down the company's credit facility, which was drawn to fund recent acquisitions. The additional liquidity under the credit facility will be used to boost the company's working capital. The shares were purchased by a syndicate of underwriters co-led by CIBC World Markets Inc, RBC Capital Markets and...
Jul 19, 2018
Pine Cliff Energy raises $19MM from promissory notes
Pine Cliff Energy has closed a private placement of 19,000 units for $1,000 each to raise $19 million. Each unit consists of one promissory note with a face value of $1,000 and 150 share purchase warrants. Each promissory note was issued at par value and has an interest rate of 7.05% p.a. The notes, which mature in July 2022, will be used to repay previous debt and to provide additional working capital. The 2.85 million warrants issued with the private placement have a strike price of...
Jul 19, 2018
Saturn raises $4.0MM in flow through shares and new units
Saturn Oil & Gas issued a total of 33.6 million new shares to raise $4.0 million.The new equity includes 7.8 million flow through sharse and 25.8 million units, all for $0.12 each. The final amount was higher than the $3.5 million initially expected. Each unit includes one common share of the company and one common share purchase warrant with a strike price of $0.18 valid for up to two years after closing. John Jeffrey, an officer and director of the company bought 2.7 million...
Jul 19, 2018
Strata-X raises A$1.4 million
TSX-Venture traded Strata-X Energy placed 27.1 million CHESS Depositary shares for A$0.05 each to raise A$1.4 million ($1.35 million). The private placement will include participation from Ronald Prefontaine, director of the company, for A$200,000. The transaction will close in two tranches: one which closed on July 17 and the second expected to close around Aug....
Jul 19, 2018
Advantagewon to issue $1.0 million in equity
Advantagewon Oil Corp. announced plans to place 20 million common units for $0.05 each to raise $1.0 million. Each unit consists of one common share and one warrant that entitles the holder to buy a common share at a strike price of $0.10 for up to two years after closing. The company will use proceeds to fund its drilling program and general working...
Jul 19, 2018
Newton Energy places 3.3M shares
Newton Energy Corp. will place 3.3 million common shares for $0.15 each to raise $500,000. The new shares are subject to a four-month hold...
Jul 19, 2018
Point Loma issues $1.6MM in new shares
Point Loma Resources issued 5.19 million new shares at a deemed price of $0.30 each to raise $1.6 million, capital it used to fund an acquisition. Point Loma bought a private oil and gas company with assets in East Central Alberta. The new shares boost the company's outstanding shares 8.6% to 60.3 million...
Jul 19, 2018
TransGlobe lists on AIM
Calgary-based TransGlobe Energy Corp's common shares are now listed on three exchanges after the London Stock Exchange allowed its shares to trade on the AIM market under the symbol "TGL." The company has 72.2 million common shares, which are also traded on the Toronto Stock Exchange under the symbol "TGL" and Nasdaq exchange under the symbol...
Jul 19, 2018
Get more news for CanadianCapital