MidstreamNews
Serving the downstream sector with news, analysis and business opportunities.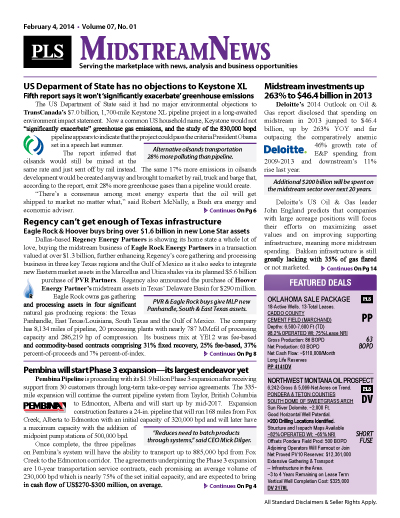 The PLS MidstreamNews Module covers news and analysis on the midstream sector. The purple banner report includes market information, news and analysis on gas gathering, marketing, pipelines, storage, midstream mergers, acquisitions, capital and corporate performance.
Your access to midstream & downstream markets
Single copy pricing; Incl hard copy & email version
Increase market insight & deal flow
Published every 3 weeks; 17+ issues per year
Covers gathering, rail, processing, pipelines, refining and LNG
Phone request for multiple listings for sale
Includes discounts for other PLS products & events
$ 595 /Yr
Search PLS' News Archive for complete oil & gas news for MidstreamNews .
See what it is about before you buy. View a sample issue of MidstreamNews.
Need more information? Click the button to recieve more details about the MidstreamNews
Opportunity is a reflection of information.
Call 713-650-1212 For More Information
Search MidstreamNews:

Headline
Publication
News Date
Bourbon to lay Gabon pipe
Bourbon will lay 25 km of 6-in. rigid pipeline for Total Gabon's Hydra Water Injection Project. The deal is the Paris-based company's first pipelay EPCI contract with Total Gabon. Operations, which...
Feb 17, 2017
Williams expects to have final bids
Williams expects to have final bids for its Geismar, Louisiana, olefins plant by the end of Q1 and expects to make an announcement in the first half of the year, Williams President and CEO Alan...
Feb 17, 2017
Summit looks to raise nearly $100MM
Summit Midstream Partners Holdings offered 4.0 million common units of Summit Midstream Partners at $24 each in an offering that closed Feb. 3. Underwriters have been granted a 30-day option for an...
Feb 17, 2017
Get more news for MidstreamNews