Southeastern Oil Scout
Serving the local market with drilling activities, permits & multiple listings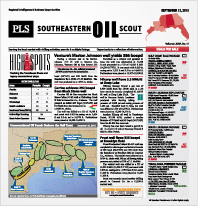 Other U.S.A. Reports
A&D Transactions
ProspectCentre
CapitalMarkets
MidstreamNews
OilfieldServices
QuickPrice
Regional Reports
Eastern Oil Scout
Western Oil Scout
Bakken Oil Scout
Permian Oil Scout
MidContinent Oil Scout
South Texas Oil Scout
Ark-La-Tex Oil Scout
View All U.S.A. Publications
PLS publishes local exploration news and drilling insights on a regional basis through reports like the Southeastern Oil Scout. Previously known as the Southeastern Oil Review and published since 1926, this unique report has a loyal following of explorationists, operators, drillers, landmen and landowners in South Louisiana, Mississippi, Alabama and Florida. PLS acquired the report in October 2012 and added Southeast Texas, (RRC 3) and offset Gulf of Mexico to the coverage. Published every three weeks, the Scout covers lead stories on drilling activity, successes and new projects while also reporting on new drilling permits, completions and P&A activity.

PLS has expanded this local platform into other regions including the South Texas Oil Scout, Permian Basin Scout, MidContinent Oil Scout, Ark-La-Tex, Bakken and Western Oil Scout. An Appalachian Scout will be added in late 2014. These regional reports complement PLS' renowned ProspectCentre, a national report covering industry E&P activity, prospect generation and new play developments.

Each Regional carries multiple listings for sale and each report also offers some limited display advertising for operators, drillers, capital providers and service providers. Sellers listing deals in the Regionals include prospect generators, royalty owners, producing property sellers and agents. The Southeastern Scout is published every 3 to 4 weeks.
Opportunity is a reflection of information.
Call 713-650-1212 For More Information

Search Southeastern Oil Scout:
Headline
Publication
News Date
Flank test scheduled at W. Raleigh Field
Will-Drill Production Co., Inc., Shreveport, La., will evaluate Eutaw sands at a well on south flank of West Raleigh Field in southeastern Mississippi's Smith County. The company will drill the No. 1...
Dec 17, 2014
Hilcorp well IP's 581 boepd in Venice Dome
Hilcorp Energy completed its Manhattan Land & Fruit Co A #58 horizontal well with an IP rate of 548 bopd and 198 Mcfd, or 581 boepd (94% oil), from the Upper B-19 Sand in the Venice Dome in...
Dec 09, 2014
Interstate IP's 5.7 MMcfed in Iberville Parish
In Iberville Parish, LA, privately-held Interstate Explorations LLC drilled its ABLD #1 well into the Marg V reservoir at 11,694 ft MD (11,473 ft TVD) and yielded 4,396 Mcfd and 216 bopd, or 5,692...
Dec 09, 2014
Two Apache wells test at ~900 boepd in RRC 3
Apache Corp drilled and completed two horizontal wells in Texas RRC District 3. In Brazos Co., the Wineman AC #1H well initially produced 588 bopd and 1,368 Mcfd, or 816 boepd (72% oil), from the...
Nov 14, 2014
Get more news for Southeastern Oil Scout