Southeastern Oil Scout
Serving the regional drilling market with news, statistics and business opportunities.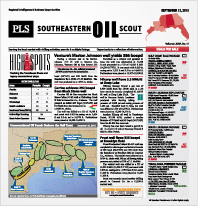 Other U.S.A. Reports
A&D Transactions
CapitalMarkets
ProspectCentre
MidstreamNews
OilfieldServices
QuickPrice
View All U.S.A. Publications
PLS publishes exploration news and drilling insights on the regional oil and gas markets through products like the Southeastern Oil Scout. Previously known as the Southeastern Oil Review and published since 1926, the unique report has a loyal following of explorationists, operators, drillers, landmen and landowners in South Louisiana, Mississippi, Alabama and Florida. PLS acquired this unique Gulf Coast report in the Fall of 2012 and is adding Southeast Texas, Railroad District 3 to the coverage. Published every three weeks this regional E&P report will include lead stories on drilling activity, successes and new projects while also reporting on new drilling permits, completions and P&A activity. The report will include traditional advertising from operators, drillers and service providers while also carrying business opportunities and listing advertisements from prospect generators, royalty owners, producing property sellers and agents.

PLS plans on expanding this local platform into other oil and gas regions with the Permian Basin Oil Scout, Ark-La-Tex Scout, MidContinent Oil Scout, Rocky Mountain Oil Scout and Appalachian Scout in 2013. These regional reports will compliment PLS' renowned ProspectCentre, a national report covering industry E&P activity, prospect generation and new play developments.
Opportunity is a reflection of information.
Call 713-650-1212 For More Information