Southeastern Oil Scout
Serving the local market with drilling activities, permits & multiple listings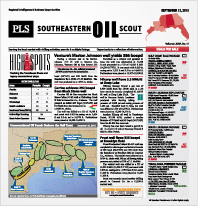 Other U.S.A. Reports
A&D Transactions
ProspectCentre
CapitalMarkets
MidstreamNews
OilfieldServices
QuickPrice
Regional Reports
Permian Oil Scout
Midcontinent Oil Scout
South Texas Oil Scout
Ark-La-Tex Oil Scout
Bakken Oil Scout
View All U.S.A. Publications
PLS publishes exploration news and drilling insights on the regional oil and gas markets through products like the Southeastern Oil Scout. Previously known as the Southeastern Oil Review and published since 1926, the unique report has a loyal following of explorationists, operators, drillers, landmen and landowners in South Louisiana, Mississippi, Alabama and Florida. PLS acquired this unique Gulf Coast report in the Fall of 2012 and added Southeast Texas, RRC 3 to the coverage. Published every three weeks, this regional E&P report covers lead stories on drilling activity, successes and new projects while also reporting on new drilling permits, completions and P&A activity. The report includes traditional advertising from operators, drillers and service providers in addition to carrying business opportunities and listing advertisements from prospect generators, royalty owners, producing property sellers and agents.

PLS has expanded this local platform into other oil and gas regions with the South Texas Oil Scout, Permian Basin Oil Scout, Midcontinent Oil Scout and ArkLaTex and plans on adding the Rocky Mountain Oil Scout and Appalachian Scout in 2014. These regional reports complement PLS' renowned ProspectCentre, a national report covering industry E&P activity, prospect generation and new play developments.
Regional Report
Format:
Hard Copy and Email
Opportunity is a reflection of information.
Call 713-650-1212 For More Information

Search Southeastern Oil Scout:
Headline
Publication
News Date
PetroMax flows 561 Boepd in Burleson County
In Burleson Co., TX, PetroMax Operating completed the Marion J Malazzo 1H and flowed 561 Boepd (88% oil) on a 16/64-in. choke in the Eagle Ford at the Aguila Vado field. The well was drilled to...
Apr 05, 2014
Maverick leads permitting in Blue Ridge field
Houston, TX-based Maverick Production led permit activity in the Southeastern region with 38 new permits over the past 30 days. All but one permit is in the Blue Ridge field in FortBend Co., TX....
Apr 04, 2014
Halcon kicks off new core area drilling
Halcon Resources spud its first Tuscaloosa Marine Shale well back on March 14 after establishing the play as a new core area. The Horseshoe Hill 11-22H-1 well (92% WI), located in Wilkinson Co.,...
Apr 04, 2014
Goodrich keeping faith in Tuscaloosa economics
After seeing its IP results improve over the past year, Goodrich Petroleum believes that Tuscaloosa Marine Shale economics are "potentially superior" to the Eagle Ford Shale, even though TMS...
Apr 04, 2014
Apache fires up LaFourche Parish permitting
Last year, 29 wells were permitted in LaFourche Parish but already in 2014, a total of 22 have been issued. Leading the drive is Apache which filed 15 permits in February alone,...
Feb 27, 2014
Southeastern Quick News Briefs - April 04, 2014
• Over the past year, the number of directional wells decreased from 41 to 29, horizontal wells increased from 20 to 33, and vertical wells increased from 29 to 38.• Over the past year,...
Apr 04, 2014
Get more news for Southeastern Oil Scout