South Texas Oil Scout
Serving the local market with drilling activities, permits & multiple listings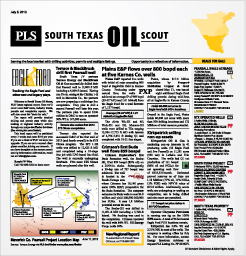 Other U.S.A. Reports
A&D Transactions
ProspectCentre
CapitalMarkets
MidstreamNews
OilfieldServices
QuickPrice
Regional Reports
Western Oil Scout
Bakken Oil Scout
Permian Oil Scout
Midcontinent Oil Scout
Southeastern Oil Scout
Ark-La-Tex Oil Scout
View All U.S.A. Publications
PLS publishes drilling activity in Railroad Districts 1,2,4 and select counties north of 3 through the South Texas Oil Scout. Published every three (3) weeks, this local report covers lead stories on drilling activity, successes and new projects while also reporting on new permits, completions and P&A activity. The regionals include traditional advertising from operators, drillers and service providers while also carrying business opportunities and listing advertisements from prospect generators, royalty owners, producing property sellers and agents.

South Texas Oil Scout is just one of PLS's Regional's favored by operators, local explorationists, landmen, land owners, royalty players, drilling companies, other service firms and capital market providers.

PLS also publishes the Permian Basin Oil Scout, Bakken, Western Oil Scout, Southeastern Oil Scout, (Gulf Coast), MidContinent Oil Scout and Ark-La-Tex Oil Scout. PLS plans an Appalachian Scout in 2014.

These Regionals complement PLS's renowned ProspectCentre, a national report covering industry E&P activity, prospect generation and new play developments. (PLS added select offset GOM offshore activity to the South Texas Scout in April 2014.)
Opportunity is a reflection of information.
Call 713-650-1212 For More Information

Search South Texas Oil Scout:
Headline
Publication
News Date
Blackbrush completes Eagle Ford & Olmos wells
Blackbrush Oil & Gas completed two wells in South Texas between June 22 - July 4, 2014. The better of the two, the Yanta Et Al Unit #1H in Karnes Co., tested a 24-hr rate of 1,986 Bopd and 2,179...
Jul 28, 2014
Silver Tusk completes Burleson Co. well
Silver Tusk Operating completed its Willard Unit #1H well in Burleson Co., TX targeting the Giddings Field in the Buda formation. The well was drilled to 9,287 ft TD (6,364 ft TVD) and flowed at 726...
Jul 28, 2014
Oak Valley flows two wells over 690 Boepd
Private Oak Valley Operating recently completed two wells in its Southern Bay Field in Fayette Co., TX in the Eagle Ford. The Kolar-Labatt Unit #5H well IP'd at 625 Bopd and 444 Mcfd, or 699 Boepd...
Jul 03, 2014
South Texas Quick News Briefs - July 28, 2014
• The McMullen Co. rig count decreased from 24 to 21 this past week.• The La Salle Co. rig count increased from 27 to 33 in this quarter. The Brazos Co. rig count increased from 6 to 15...
Jul 28, 2014
South Texas Quick News Briefs - July 03, 2014
• In the past year, directional rigs in South Texas decreased from 29 to 16, horizontal rigs increased from 221 to 239 and vertical rigs increased from 25 to 30.• The Karnes Co., TX rig...
Jul 03, 2014
Get more news for South Texas Oil Scout