South Texas Oil Scout
Serving the local market with drilling activities, permits & multiple listings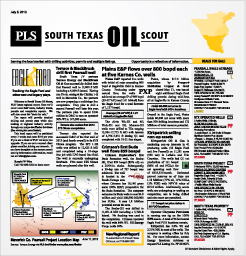 Other U.S.A. Reports
Permian Oil Scout
A&D Transactions
Midcontinent Oil Scout
ProspectCentre
CapitalMarkets
Southeastern Oil Scout
Ark-La-Tex Oil Scout
MidstreamNews
OilfieldServices
QuickPrice
View All U.S.A. Publications
PLS publishes exploration news and drilling insights in the South Texas regional market through the South Texas Oil Scout. PLS' unique regional reports have a loyal following of local explorationists, operators, drillers, landmen and landowners.

Published every three weeks, this regional E&P report (RRC 1, 2, 4 and north of 3) covers lead stories on drilling activity, successes and new projects while also reporting on new drilling permits, completions and P&A activity. The regionals include traditional advertising from operators, drillers and service providers while also carrying business opportunities and listing advertisements from prospect generators, royalty owners, producing property sellers and agents.

South Texas Oil Scout joins PLS' regional reports Permian Basin Oil Scout, Southeastern Oil Scout, MidContinent Oil Scout and ArkLaTex Oil Scout. PLS plans on expanding our regional reports with the Rocky Mountain Oil Scout and Appalachian Scout in 2014. These regional reports complement PLS's renowned ProspectCentre, a national report covering industry E&P activity, prospect generation and new play developments.
Regional Report
Format:
Hard Copy and Email
Opportunity is a reflection of information.
Call 713-650-1212 For More Information

Search South Texas Oil Scout:
Headline
Publication
News Date
BHP Billiton contining its Hauglum Project
BHP, who is spending $3.0 billion of its $4.0 billion capex in the Eagle Ford and already produces 100,000 Boepd in the play, announced two completions in Live Oak Co., TX --- the Hauglum 12H and...
Mar 05, 2014
Vess Oil expanding its Texas operations
Privately held Vess Oil (Wichita) completed the Howard Pierce Unit #1H in Madison County. Targeting the Woodbine A, the well was drilled to 9,100 ft TVD with a 5,100-ft lateral and IP'd at 652...
Mar 05, 2014
Swift completes 2 Webb Co. wells for 40 MMcfed
In its recent YE13 earnings report, Swift Energy credited enhanced drillingand completion techniques with its success down on its Fasken gasproject in Webb Co. TX where it completed 2 new wells. The...
Mar 05, 2014
EOG's completion out flows peers in Gonzales Co.
EOG Resources had the top oil IP in the South Texas region for the reporting period. Located in Eagleville field in Gonzales Co., the Kasper Unit-1H well was drilled to 17,457 ft MD (11,675 ft TVD),...
Feb 06, 2014
Cinco hits oil pocket in Webb County
In Webb Co., the gas is flowing but not so much the oil. Since 2005, only 36 oil wells have been drilled, a stark contrast to the 2,500 gas wells. Cinco Natural Resources' Caty 1-2H vertical...
Feb 06, 2014
Plains adding NGL fractionator at Gardendale
Plains All American Pipeline will spend $120 million in the Eagle Ford to build a new NGL fractionator and expand an existing condensate stabilization facility at Gardendale, Texas. Supported by...
Feb 06, 2014
1776 drilling some of the best wells in region
Recent entrant to the Eagle Ford, 1776 Energy Operators' Niestroy Unit 1H well was the fourth best completion in RRC 1,2,3 and 4 over the last 90 days, IPing 2,962 boepd (93% oil, 44°API)....
Jan 20, 2014
Get more news for South Texas Oil Scout