ProspectCentre
Serving the E&P market with news, analysis and business opportunities.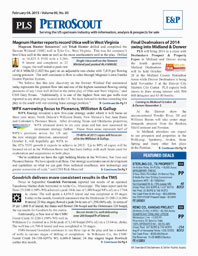 Click Here
Other U.S.A. Reports
A&D Transactions
CapitalMarkets
MidstreamNews
OilfieldServices
QuickPrice
Southeastern Oil Scout
View All U.S.A. Publications
PLS publishes news and analysis on the exploration and production (E&P) sector through its E&P module. The blue banner report covers new well discoveries, drilling activities, acreage sales, industry statistics (drilling results, activity permits and intents to drill) and technological updates. Besides the composite E&P report - the ProspectCentre also carries market insight, analysts' comments and respected featured interviews with leading E&P executives. The monthly glossy report is PLS' flagship product and includes over hundreds of listings of prospects, projects and farmouts for sale.

In addition to the E&P newspaper, PLS also publishes E&P alerts on significant exploration stories, new discovery trends and market activities. Like the a&d alerts, the E&P MarketAlerts are market and content driven and include more in-depth analysis than the composite monthly.

The E&P module is a must read for landmen, explorationists, dealtakers, active operators, investors and landowners to stay current on industry drilling and exploration trends. This bundle is available through hard-copy and email distribution and is the perfect complement for PLS' other research (A&D Transactions, CapitalMarkets, MidstreamNews, QuickPrice, Oilfield Services); tools (docFinder) and databases (M&A) in the U.S., Canada and International.
Opportunity is a reflection of information.
Call 713-650-1212 For More Information