InternationalDeals
Serving the global asset marketplace with deals, analysis and business opportunities.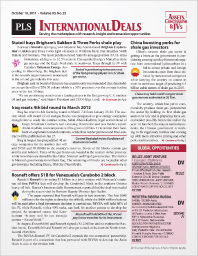 Click Here
Other International Reports
International Capital
International Explorer
View All International Publications
PLS also publishes specialized international research and analysis under the InternationalDeals masthead, expanding in 2010. The InternationalDeals report includes market analysis and aggregated news on global m&a activities, acquisitions, divestitures, international exploration, new discoveries, lease concessions, farmouts, capital markets, midstream and downstream news. PLS supports the composite reports with international alerts on content-driven market activity.

PLS also offers other international databases including M&A, exploration activity, deals in play and development projects.

PLS' Canadian and U.S. reports and unique joint venture with Derrick Petroleum provides PLS a unique platform to cover the exciting global marketplace.
Opportunity is a reflection of information.
Call 713-650-1212 For More Information