Canadian Capital
Serving the Canadian finance market with news, analysis and business opportunities.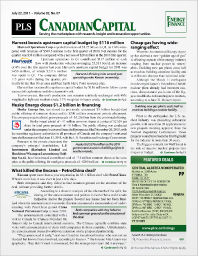 Click Here
Other Canadian Reports
Canadian Acquirer
Canadian Explorer
View All Canadian Publications
The Canadian Capital (green banner report) covers news and analysis on the energy finance sector, including company budgets, capital spending, financial performance and interviews with leading capital providers. The timely research report also contains analysis of public and private financings as well as tracks trends in capital availability from commercial banks, private equity, public markets and other providers. The Canadian Capital is published every three weeks in email and hard-copy format.

PLS also publishes Capital MarketAlerts on a regular basis. These capital alerts are market-driven and include in-depth analysis on significant capital and finance stories and trends.

PLS' Canadian Capital report is a must-read for leading E&P presidents, financial executives, capital providers and asset brokers in the Canadian marketplace.
Opportunity is a reflection of information.
Call 713-650-1212 For More Information