Oilfield Services
Premium databases, market access, transaction work, buyside assistance and capital sourcing for the oilfield service sector.
Oilfield Services Group
Since 1987, PLS has leveraged its core research and publishing arm to support its transaction and advisory clients in the oilfield service sector.
On the information and research side, PLS publishes a dedicated worldwide report on the oilfield service sector, which is published every 2-3 weeks. The reports include aggregated news, market analysis, and business opportunities within the service sector. Other U.S. reports not strictly pertaining to the oilfield service sector include: upstream a&d, e&p, energy finance, midstream markets, and product pricing.
In addition to service sector news, PLS also offers premium database products including the industry's premier oilfield M&A Database as well as our unique docFinder search tool for industry slide presentations.
Capital Raising Services
In addition to oilfield service news, PLS' Oilfield Service Group can help clients raise money to expand their service and manufacturing companies through their exhaustive company database of private equity and all types of institutional lenders
Sell-Side Transaction Services
PLS transaction professionals are experienced in the oilfield sector, having marketed over $5.0 billion in assets sales here and abroad. The PLS team has a proven track record of executing aggressive, competitive, and profitable auction processes. The PLS team also fosters strong professional relationships and intimate deal structuring experience to maximize the value proposition.
Buy-Side Advisory Services
PLS also offers tested strategic advice and by-side assistance for companies seeking support in the very active oilfield service sector. Assignments include sourcing acquisition opportunities, project modeling, corporate and asset valuations, mergers and acquisitions, as well as capital markets
Solid Industry Relationships
PLS professionals have key relationships, extensive experience, market knowledge and industry background in the oilfield service sector.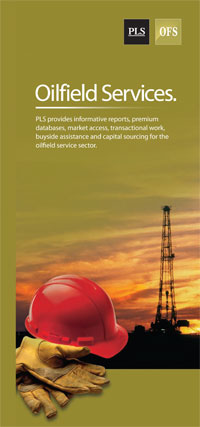 Click to View
Adding Value
PLS provides buyers, sellers and capital providers the essential information, marketing resources and advisory services they need to make critical decisions, initiate timely transactions and properly manage their business opportunities.
Informative Reports
Premium Databases
Unique Interactive Contact Database (Coming Soon) - track e&p companies by size,
personnel, activity, portfolio, news, transactions, acquisitions, asset sales etc.
Are you buying upstream oil and gas assets?
Current Acquisition Opportunities:
Current Prospect Opportunities:

Drilling Ventures for Sale
Current Midstream Opportunities:

Midstream Assets for Sale
Current Land Opportunities:

Land & Farmouts for Sale
Past deals:
Contact us to discuss your needs:
Ronyld Wise
Managing Director, PLS
Email:
rwise@plsx.com
Phone: 713-658-9421